Cooking involves a lot, and your cookware brings out the best flavors in food. The Le Creuset Dutch Ovens are famous for their ability to cook foods at temperatures that make them flavorful and super delicious.  This guide reveals everything you need to know about the different dimensions of Le Creuset Dutch Ovens and their purpose.
In addition, the dimensions of Le Creuset Dutch Ovens help you use them for different purposes. This feature makes them one of the most sought-after cookware among home chefs and professional cooks.
Product Overview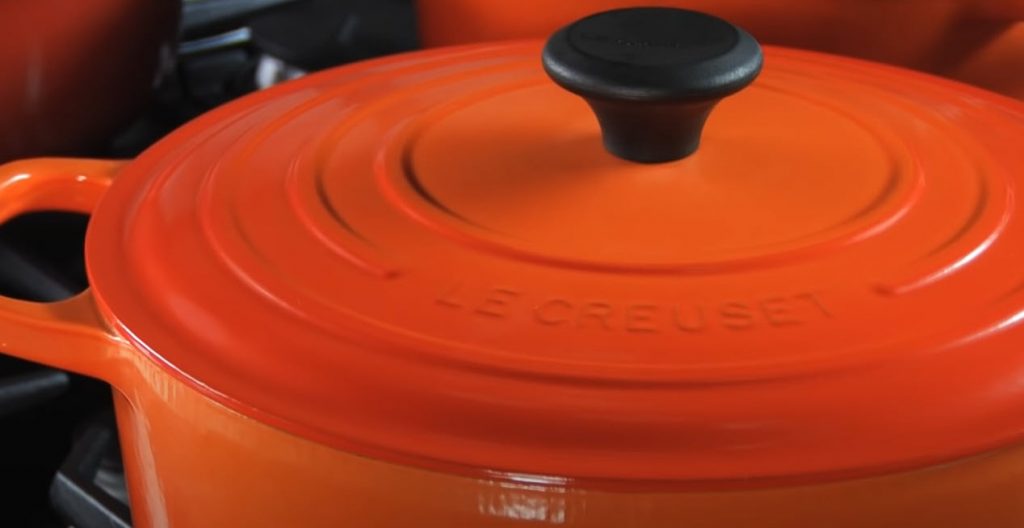 The Le Creuset Dutch Oven has stood the test of time for many decades since it first entered the market in 1925. French Artisans and Craftsmen developed its unique design, making it a popular product worldwide.
Today, you can still get a signature Dutch Oven from the French-based Le Creuset Craftsmen.
This oven resembles a dish-like pot with a tight-fitting lid. It comes in different shapes though three are the most popular. These include round, oval, and deep dutch ovens.
Each Le Creuset Dutch Oven design has various sizes. As a result, you should know the different dimensions of Le Creuset Dutch Oven when choosing different designs.
The round design has a circular shape and a wide base. It is not deep since it sacrifices height so you can get more surface area. It is great for making sauces and soups.
The oval design is similar to the round oven. You'll get an oval-shaped oven with a longer diameter in the handles' direction. This design is excellent for making no-knead bread and meals that need wider exposure to a hot surface.
Lastly, the deep Le Creuset Dutch Oven has a tall build. As its name suggests, this oven is deep and gives you less surface area. It is excellent for cooking chicken and other foods requiring prolonged heating.
The designers used cast iron for the Le Creuset Dutch Ovens for its heat-retention abilities and coated them with a glossy enamel finish in the early days. Today's Le Creuset Dutch Ovens still use cast iron and the enamel finish.
Dimensions of Le Creuset Dutch Ovens
Here are the dimensions of Le Creuset Ovens and how food servings you can get from them:
Round Ovens
The round Le Creuset Dutch Oven comes in seven dimensions.
2 quarts: one or two servings – 7.25″ dia x 3.5″ high
3.5 quarts: three or four servings – 9″ dia x 5″ high
4.5 quarts: three or four servings – 9.5″ dia x 4.5″ high
5.5 quarts: five or six servings – 10.25″ dia x 4.5″ high
7.25 quarts: seven or eight servings – 11″ dia x 5″ high
9 quarts: more than nine servings – 12.25″ dia x 5″ high
13.25 quarts: more than nine servings – 16.5″ dia x 6″ high
Oval Ovens
Similarly, there are six sizes of the oval Dutch Oven available. They are:
2.75 quarts: one or two servings – 12″ x 7.75″ x 5.5″ high
5 quarts: five or six servings – 9.25″ x 8.75″ x 4.5″ high
6.75 quarts: five or six servings – 12.5″ x 9.75″ x 4.75″ high
8 quarts: eight servings – 13.25″ x 11″ x 7.25″ high
9.5 quarts: more than nine servings – 13.75″ x 10.75″ x 5.5″ high
15.5 quarts: more than nine servings – 20″ x 12.75″ x 9.25″ high
Deep Ovens
There is just one size available — the 5.25 quarts deep oven, which has a serving capacity of five or six meals.
Features of Le Creuset Dutch Oven
●    Versatile
The Le Creuset Dutch Ovens serve different purposes. You can use them for casseroles, beef stew, bread, potatoes, soup, and chicken. Its unique heat-retention abilities ensure that it brings out the tastiest flavors for a delicious meal.
●    Works with Different Cookers
The cooker you have doesn't matter. Le Creuset works with all stoves and cooktops, including halogen, induction, ceramic, gas, and oven. It also has an oven-safe rating of up to 500F, which helps you cook food at a wide range of temperatures.
●    Easy Cleaning
These Dutch Ovens have two layers of enamel coating. The outer layer is tough and protects it from scratches, staining, or chipping from cooking. The shiny inner enamel coating resists the effects of cooking and ensures you can easily clean the oven after cooking.
●    Strong Build
This cookware comes with two ergonomic handles that make carrying super easy. The tight-fitting lid conserves as much heat as possible and ensures food gets done fast.
●    Lightweight
Le Creuset is very lightweight compared to other options on the market. You can easily carry it from the kitchen to the dining table.
Pros
Enamel coating does not require seasoning
High-quality and durable
Has colorful designs
Comes with tight-fitting lids
Free delivery available
Works with dishwashers
Easy cleaning
Great heat-retention abilities
Cons
No transparent lid
A bit pricey
Factors That Affect the Le Creuset Dutch Oven You Select
Here are some things you should check if you're stuck deciding which design or size is best for you.
●    Purpose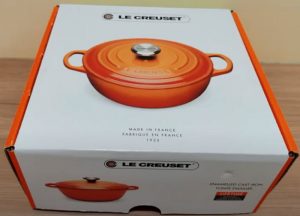 The reason why you need a Dutch Oven is the most important factor that determines which cookware you should buy. Are you going to bake bread in your oven or make chicken stew? Will you use it for cooking rice and other long-cooking cereals?
Also, do you need a large oven or a small one? Would a shallow and wide option serve, or must it be deep? Review the reasons why you need one before ordering.
●    Family Size
Family size is also vital when making this decision. You need a large oven if you've got more mouths to feed. This way, you can save the stress of preparing multiple meals. Growing children eat more than most adults, and more than one meal serving may be needed for the average child.
On the other hand, a couple won't need a large oven, and smaller Dutch Ovens will serve. This guide has the number of meal portions you'll get from each size, so you should review it before placing an order.
●    Budget
Check how much you could spare for one Le Creuset Dutch Oven. Your budget should align with your needs – else you may have to borrow. Check how the oven will help your cooking and your family size against the price you're paying and ensure they agree.
In addition, confirm that your choice satisfies your needs. There are discounts for getting more than one Le Creuset Dutch Oven, so you can pick an extra one if you've got the resources.
In addition, you'll also get the free delivery perk on orders greater than $99.
●    Available Space
Many people overlook the available space they have where they live. The space in your kitchen also determines whether you should stick to a smaller option or buy the bigger sizes.
Furthermore, it can determine the design you can buy, whether the wide surface area round and oval oven or the space-saving deep oven.
Frequently Asked Questions
1.   What is the standard Le Creuset size?
Dimensions of Le Creuset Ovens are measured in quarts and meal servings. These factors depend on whether the oven is round, oval, or deep. As a result, what works for you might not work for others. Go through the dimensions in this guide before making a choice.
2.   Does a Le Creuset require seasoning?
No. Unlike traditional cast iron, the enamel finish seals off the cast iron core and protects it from food when cooking. Hence, you do not need any other seasoning before using a Le Creuset Dutch Oven.
3.   What Dutch Oven size should I buy?
Check how many servings you prepare per meal. For example, choose a Dutch Oven rated for four or more quarts if you make four servings.
Final Thoughts
Le Creuset offers a stylish approach to cooking delicacies and treats. The ergonomic heat-conserving design saves energy and ensures meals are ready in no time.
Choosing one depends on many factors. For example, the dimensions of Le Creuset Ovens determine how much meal serving they provide. In addition, it also affects the available space you have for the cookware.