When it comes to kitchen utensils, one of the most common issues is food sticking in the pot. There have been numerous hints and tips, hacks, and techniques for preventing or reducing sticking, such as rubbing the base of the pot with oil before cooking and so on. However, while some of these hacks occasionally work, they cannot be wholly relied on. This is a significant issue for seamless cooking.  In this article, we will address the important question of can Scanpan go in the oven.
This problem resulted in the development, or rather invention, of coated pots and pans. These pots can be used to cook without worrying about food sticking to them. Scanpan is a well-known manufacturer of high-quality coated pots. Continue reading to learn more about Scanpan.
What Is Scanpan?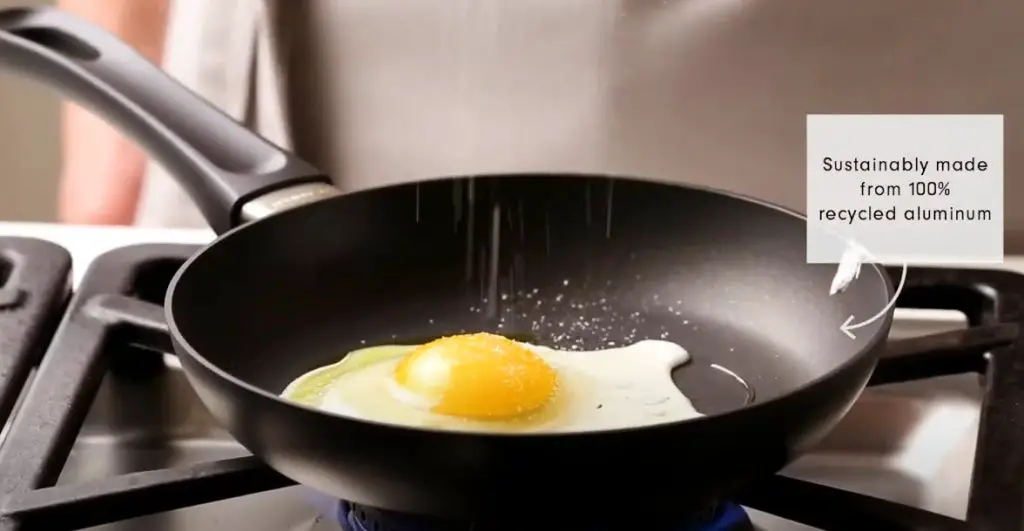 Scanpan is a company that has specialized in the production of high-quality kitchen products for over three decades. They were founded in 1956 and are well-known for user-friendly, long-lasting, high-quality, and visually appealing products.
Their products include pots, pans, knives, and other kitchenware and accessories. The company, based in Ryomgaard, Denmark, exports its products to over fifty countries.
Their products are also notable for their excellent food-searing ability. They also boast of a little carbon footprint. It is an environmentally friendly company that uses recycled materials, but this does not imply that its products are lower quality.
They are known for their originality and quality and are one of the world's leading producers of cookware. They have patents on the nonstick coatings they use to coat their products. One such coating is their Stratinum nonstick coating technology, which has been approved by the FDA and is known to be safe to use in everyday cooking. The majority of their products feature their Stratinum nonstick coating.
What Are Scanpan Products Made of?
Scanpan has one of the best manufacturing facilities in the kitchenware industry. Skilled artisans create their products with extreme precision and a human touch. Scanpan products are made from a variety of materials to ensure quality, nonstick properties, heat retention, and other specifications. Recycled stainless steel is one of the materials used.
At the factory in Ryomgaard, Denmark, Stainless Steel is assembled. The cookware's body is made of stainless steel, coated with Stratinum nonstick coating. This Stratinum coating ensures that the goods are nonstick. Scanpan has also patented the Stratinum coating. This functional PTFE coating has been tested and proven to be consumer friendly.
The absence of perfluorooctanoic acid (PFOA), known to cause health problems, is a significant feature of this company's products. The cookware also has a 5-ply construction that allows for quick and even heat distribution.
Tempered glass is used in the glass parts to ensure excellent performance when cooking with high heat. Skilled artisans inspect the items numerous times during and after manufacturing to provide high-quality, flawless, durable, long-lasting, and premium products.  We'll get to can scanpan go in the oven in a miute.
What Are Some of Their Products?
In the consumer market, Scanpan products are extremely popular. They have a wide range of products to suit your needs and preferences. Some of their well-known products include:
Scanpan CTX
The Scanpan CTX Deluxe Set includes a lidded Dutch oven, two lidded saucepans, a 10.25-inch frying pan, an 8-inch frying pan, and a lidded saute pan. It is suitable for use with induction cooktops. All metal utensils are safe.
Scanpan Classic 
Scanpan Classic is inexpensive. It comes with two frying pans; a covered sauté pan, two covered saucepans, and a Dutch oven. The handles of the classic pans are made of Bakelite and are not riveted, making cleaning easier. It is also suitable for use with induction cooktops. Another classic set that is less expensive than those mentioned earlier but cannot be used with induction cookers is available. It comes with the same number of items as the classic.
Scanpan CTP
Another model is the Scanpan CTP cookware set. It has a mirror-polished exterior and provides excellent heat distribution. Two fry pans, two covered saucepans, one covered sauté pan, and a covered Dutch oven are included.
Scanpan Pro IQ
The Scanpan Pro IQ is another great model, with two frying pans, one sauté pan, one colander, and two stockpots. The body is made of aluminum (Recycled).
Scanpan CS+
Scanpan CS+ is also an excellent cookware set. It comes with three nonstick skillets, three lidded nonstick saucepans, one nonstick sauté pan with a glass lid and a nonstick Dutch oven with a glass lid. It is said to be simple to clean and use without oil. Its nonstick properties are also superior to other models, thanks to the new, improved Stratinum+ coating technology used in this model.
The company also manufactures a variety of other kitchenware, all of which are of high quality.
Do Scanpan Cookware Contain Teflon?
This brand's products are not made with Teflon surfacing. However, it contains polytetrafluoroethylene, used in all nonstick coatings, just like any other nonstick brand. They do not contain perfluorooctanoic acid (PFOA)
Are They Dishwasher-safe?
According to the manufacturers, Scanpan products are dishwasher safe. However, using them in a dishwasher may cause the pans to lose some properties over time, such as the mirror polish. Hand washing your products with warm water, mild detergent, and a soft sponge is recommended.
How much do Scanpan products cost?
Scanpan is known for producing high-quality products, and as a result of this and the materials used in their production, their pans are more expensive than alternatives. Furthermore, longevity, quality, durability, and other factors are among the reasons they are more expensive than alternatives. However, if you are a fan of premium quality kitchen wares, you should not mind, or rather may not care, the occasionally high prices of this brand because their products are really of high quality.
Are All Scanpan Products Induction Compatible?
When purchasing Scanpan products, be cautious and pay attention to the specifications because not all products are induction compatible. Numerous induction-compatible models are available, including the Pro IQ, CTX, HAPTIQ, and CS+. Furthermore, the majority of induction-compatible models perform admirably on induction cooktops with no noise or vibration.
How Long Do Scanpan Products Last?
They, like all nonstick products, will not last forever. However, most models last for a few years with no noticeable decline in performance or appearance.
Furthermore, the price of the item appears to influence how long its quality will last. As a result, higher-priced goods tend to stay a little longer than lower-priced models. However, the Scanpan five-layered Stratinum coating will outlast most nonstick products.
The nature of your use is another factor that can influence how long it lasts. When used roughly, the lifespan decreases faster than when used with care. On average, you should expect up to 5 years of continuous use before any kitchenware declines.
How Heavy are Scanpan Products?
Most pots are a little heavy due to the method of construction used to ensure quality. This is also due to the fact that the goods are thick, have a high heat retention capacity, and are extremely durable. Depending on the consumer, some may find it satisfactory, while others may find it too heavy. However, we can say that they are not too heavy for daily use because you should get used to them over time.
How Does the Scanpan Products Design look?
Scanpan is not the most beautiful brand when it comes to very colorful or eye-catching designs, as most of its products are designed very simply. They are primarily designed for their quality.
The Scanpan Cookware products design is very simple and easy to use. It has a nice finish, which makes it look elegant. The handles are made of stainless steel, which makes them very durable. There are also many other features that make this cookware product stand out from the rest.
The Scanpan Cookware products have a high-quality finish that makes them look elegant and attractive. This finish makes it possible for you to cook with great ease because it allows you to use your pots and pans without having to worry about scratching or breaking them. When you purchase this product, you will be able to choose from a wide range of different designs so that you can find one that suits your needs perfectly.
Fans of brightly colored goods may be disappointed by this brand. However, as previously stated, they look good and will appeal to consumers who value simplicity.
Can You Use Metal Utensils on Scanpan?
According to the kitchenware company, metal utensils can be used on the products without issue. However, we would not generally follow this advice because the coatings, while more durable than most other nonstick coatings are not indestructible.
To be safe, we recommend using wooden, silicone, or plastic utensils on this kitchenware and other nonstick pans, in general, to protect the coatings from scratches or further utensil-caused damage.
Can You Use Scanpan in The Oven?
To return to the original topic of the article; can Scanpan go in the oven?  All of Scanpan's products are oven safe. They are entirely safe for use in the oven. They can withstand temperatures of up to 500°F. The glass lids are also tempered so they can be used in the oven without worry. The handles are also made of heat-resistant materials, allowing them to withstand high temperatures while remaining handleable.
However, it is not recommended to use nonstick under high heat conditions for an extended period of time as this may cause them to lose some of their properties due to the melting of some of the coating. As a result, you should follow the manufacturer's instructions because most nonstick cookware should not be used for extended periods of time with heat. Also, keep an eye on the temperature, as it has a 500°F limit!
What is the average lifespan of Scanpan products?
The Scanpan Cookware products are made from high-quality materials that allow you to use them without having any problems whatsoever. They are also lightweight and durable enough. Hence, they can be used for long periods of time without experiencing any issues with their durability or functionality.
The handles on the pots and pans are made of stainless steel, which makes them durable and easy to use. The handles also come in different colors to match your kitchen décor perfectly.
The Scanpan cookware products can be used by everyone from teenagers to grandparents and everyone in between! If you need a special gift for someone special, this is the one for you!
Does Scanpan Have a Warranty?
This brand's products all come with a warranty, which is usually honored professionally by Scanpan. The warranty is also dependent on the cause of the fault. If the fault is caused by the customer's negligence or failure to follow the instructions for use, the warranty will be void.
The Scanpan warranty covers manufacturing defects such as pitting, peeling, and surface bubbling. If the manufacturer causes the fault, the customer will send it to the company via postage, where it will be inspected to determine whether it is a manufacturer or consumer-caused defect or malfunction. The warranty does not cover residue buildup, propellant spray damage, or accidental damage from dropping.
The outcome of the inspection determines whether or not the warranty covers the fault. Scanpan is known for handling warranty issues professionally and effectively.
To Wrap Up
Scanpan products are among the best on the market for kitchenware. Their products are long-lasting, high-quality, and beautiful, with excellent heat retention capacity, longevity, and tolerance, among other qualities. As a result, Scanpan products are recommended for use in the home, restaurants, and different settings.
These are suitable for frying, searing, browning, and cooking. The fact that they can also be used in the oven contributes to their popularity. Furthermore, the Stratinum nonstick coating technology and the Stratinum+, which is said to be 50% more durable against heavy use than Stratinum, are unrivaled in the cookware market.
Unlike other types of regular kitchenware, the benefits of purchasing Scanpan outweigh the drawbacks. They also provide one of the best food releases among competitors, in addition to durability, longevity, and quality. Besides, everyone appreciates a kitchen with 'class!' appliances.
Ultimately, purchasing Scanpan pans will benefit your kitchen greatly.
The unique features of the kitchenware brand make it a good investment.