It is hard to envision a kitchen without an essential set of utensils and kitchenware. Whether you only fry an omelet for your breakfast in your kitchen or cook meals for your whole family, you require a set of essential items. There is an overwhelming array of cookware and selecting the best one might feel like a daunting task.  Today we'll look at our Gotham Stack Master Review.
Investing in your kitchenware is an excellent way to set your kitchen with all the essential items. If you are eager to learn about the kitchenware sets, read on about a popular cookware brand, Gotham Cookware, and a Gotham Stack review. Unveil some exciting details about the Gotham stack set and ultimately decide whether you should go for it or not.
History of Gotham Cookware Company
Emson Company owns three Gotham Steel Cookware. It is often regarded as a late-night, "As Seen On TV" brand. The company is well-reputed for its nonstick ceramic cookware. The brand also manufactures other kitchenware, bakeware, and electric fryers and grills.
Emerson is the parent company of Gotham and has a list of other "As Seen On TV" brands. The most popular ones of them all were Gotham Steel and Granitestone. Emson manufactures an eclectic variety of products which include, electrical appliances cookware, fitness materials and outdoor accessories and other beauty, personal care and pet care accessories.
As opposed to other Cookware companies, Emson doesn't produce any of their items. It instead buys it from foreign companies. China is the hub of Gotham Steel kitchenware production.
Many people find uncanny resemblance between Red Copper and Gotham Steel. However, both the brands have no association. There's a high debate over which brand is better than the other, but it seems like both the brands are almost equivalent in functionality, performance and quality. The key difference lies in the raw material of the two brands. Gotham Steel consists of titanium and ceramic while Red Copper comprises Copper and ceramic.
Gotham Steel is also known for its brand endorsements campaigns by various renowned chefs. Daniel Green is one of the most popular endorsers of the brand, known for being a cookbook author, celebrity chef and a cooking show host. He is a crucial character in the brand's late-night infomercials. He demonstrates the Cookware performance.
What Types of Products do Gotham Cookware Sell?
Gotham Cookware sells an extensive range of products including, Cookware, grills, fryers and bakeries. The brand's products are well-reputed for maintaining consistency in style. They stick to their classic style which gives your kitchen a cohesive appearance.
Gotham Sets: There are various options available for Gotham Sets. The set covers all your basic home kitchenware needs. You can get your set of two-matching skillets or frying pan or even hoard an enormous Cookware set ranging from 7 to 20 pieces.
Pots and Pans: This is the category of pots and pans. Gotham Steels is particularly known for this category. Most of the pots and pans of Gotham Steel come with a tempered glass lid. They consist of titanium, ceramic, and aluminum base. The pasta pots also feature a nonstick surface which makes them more versatile. You can enjoy sauteing your vegetables without or minimal oil or butter.
Bakeware: Gotham Steel also provides all the basic bakeware items. You can get a cookie sheet, a loaf pan, a round pan and a baking pan. Th3 brand also offers brownie pans. Since Gotham Steel promises a nonstick surface, cleaning your baking residues is easier than ever.
Grills and Fryers: Gotham Steels only manufactures one kitchen appliance which includes electric grills. The brand provides grills and griddles in the pan form. However, they do not offer electric fryers. They merely offer fry baskets.
The brand also provides grill and baking mats. These mats help you with mitigating any chance of flare-ups on the grill or elongation of a cookie sheet while baking.
Kitchenware: The kitchenware collection of Gotham Steels offers extremely limited cooking utensils including spatulas, ladles, pan organizer, knives and a recipe book.
Let's Talk about Gotham Stack Master
Now let's talk about the Gotham Stack Master review. Here is a detailed review of Gotham Stack Master.
What is Gotham Stackmaster?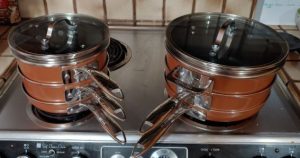 The Stackmaster series from Gotham Steel has an enclosed base for induction compatibility, relatively similar aluminum structure, and titanium ceramic nonstick covering as previous Gotham Steel lines. These pans are slightly different in shape from the other Gotham Steel ranges since they are made for effective storage. They only offer kitchenware sets. and do not include bakeware sets.
How Many Cooking Appliances Come in the Set?
The complete cookware set of the Gotham set features everything you need for cooking. The set includes an 8-inch fry pan, 75qt saucepan, 10-inch Skillet, 3.5qt saucepan, a spatula, 5qt stock pot, 3 interchangeable lids and a robust spoon.
The advantage of three interchangeable lids is you can use them on all your saucepans, stockpot and skillets. The glass lid also allows you to monitor the food while it is still in process and fit it to seal all the nutrients to obtain best results.
Review of Stackmaster:
Here the specification of the Gotham Stack Master review. Let's take a closer look:
Heating:
Due to the sheer similarity in structure, it is very comparable to the Pro Anodized range. The enclosed base will offer excellent heating than the original version and is also compatible with induction. Since these pans are so light and thin, adding cold food to a hot pan causes some burning and a significant temperature drop. However, these pans offer respectable heating for the price.
Induction:
Some of the smaller pans may not function on some induction cooktops due to their lightweight. A specific weight of the product is essential for induction to detect the pans. You might find various reviews complaining that their small pans did not function on induction.
Build Integrity and Robustness: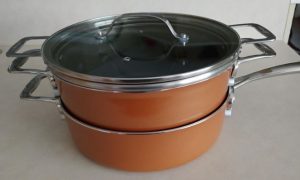 These pans are incredibly light, just like other Gotham Steel lines, but the enclosed base keeps them from warping. As with the Original Gotham Steel cookware, the handles are flattened (most likely  to assist with stacking)These are still comfortable and fit your hand, but experts prefer rounder handles on the other lines. In fact, because they are flat, they are even simpler to stabilize using your arms than the rounder handles are. If this titanium ceramic nonstick layer is the same as the copper-colored coating found on other lines, we are unable to tell.
The multiple levels of covering may sound remarkable, but according to the expert opinion, the nonstick capabilities aren't that great and seem to be comparable to those of other Gotham Steel brands. For the best results, you must use butter or oil with the majority of meals; otherwise, food particles may stick, and cleanup could be difficult.
Pan design:
In comparison with the other Gotham Steel lines, these pans are broader and shallower. You might assume that a kitchenware line made to stack effortlessly would compromise its functionality, but these don't. Experts love the shape of these pans. They are simple to use and simple to wash due to their wide, shallow design. The skillets feature a lot of level cooking area because of their extremely straight sides. Even the deep-frying equipment-equipped seven-piece set is deep, yet it still has a very practical layout.
Value:
The value is amazing, just like other Gotham Steel kitchenware. The 3 piece set costs less than $50, the 5 piece set costs less than $100, and the 10 piece set costs between $120-$180 depending on color. The above-pictured 7-piece deep fry set costs roughly $80. The small, but still quite practical, items in the picture are an 8-inch skillet, a 2.75-quart saucepan, and a 3.5-quart sauce pan. The Classic Gotham Steel 10-piece set costs about $100, for reference. Therefore, even though the Stackmaster set is more costly than the Standard, it's still pretty reasonable.
Expert Recommendation:
Stackmaster comes in sets which makes it feasible for various users. Various experts say that you should purchase nonstick skillets so that you have to replace only one item after a few years. However, many experts love the Stackmaster series. They suggest that if you are looking for something inexpensive and do not mind replacing the whole set after a few years, you should consider Stackmaster.
Why is it Called "Stackmaster"
The Gotham Set of Appliances is called Stack because it comes in a set. You cannot select one appliance or utensil from the whole stack. You have to buy the whole stack of kitchenware.
Are They Easy to Clean?
Gotham Stackmaster Appliances are nonstick in nature. Hence, baking residues or food scraps do not stick on the surface. They can come off easily. Moreover, the Stackmaster appliances are extremely easy to clean. You don't have to spend much time cleaning up any mess. After all your cooking projects, you can place the utensils in the dishwasher for a swift and simple clean-up. Stackmaster appliances are safe to use in a dishwasher, so you don't have to worry about rust buildup or stains.
Are the Gotham Stackmaster Appliances Oven Safe?
Similar to the Red Copper utensils and appliances, Gotham Steel pans are safe to use since they do not contain chemicals like PTFEs or PFOAs. The Gotham appliances also feature solid stainless-steel cool touch handles which stay cool even on the top of the stove. Their ergonomic design provides safety and solid grip to the user.
Are the Gotham Appliances Really Nonstick?
The nonstick quality is what you would anticipate from any average cookware manufacturer. It functions flawlessly straight out of the box, but over time, the nonstick qualities begin to disappear. There might be many reasons for the disappearance of the non-stick properties. One of the reasons might be improper usage or handling without care.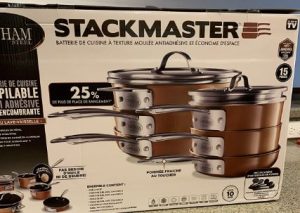 The general performance of them has received a lot of conflicting opinions. The nonstick is great while it lasts, but others claim that because of its thin base, it heats up quickly and cools down almost as quickly. Additionally, due to the thin body profile, it won't be able to maintain the heat required for consistent cooking. You must keep a watchful eye on your food during cooking.
Gotham Steel claims that due to its exceptional non-stick properties, you don't need to use butter or oil. While this may be the case, experts advise otherwise. Use only a minimal quantity of oil, and pick a healthy oil like avocado oil, if you have health concerns. Food tastes exceptionally delicious while browning and you cannot pull off a good taste without using oil.
Although Gotham Steel Cookware has certain performance concerns, the pricing is unmatched. An individual who needs their first kitchenware collection can use it as a terrific beginning point for any aspiring home chef. It might also serve as an excellent housewarming gift.
With this kitchenware, you can practice with inexpensive pots and pans while making all your major cooking mistakes. You need to break a few eggs to make an omelet, as the expression goes. When you become a skilled chef, buying expensive cookware will feel a lot better.
Conclusion
All in all, Gotham Cookware offers some incredible options for experts and aspiring chefs. In case you are an expert and eager to invest in an extraordinary set at a pricey rate, then you could drop the option of splurging on Gotham Stack. However, if you are looking for a budget-friendly option that comes with excellent specifications and makes your cooking journey smooth, you should go for the Gotham Stack Master. Overall, Gotham Stack is one of the top-rated brands which lives up to its reviews and satisfies its consumers with high-quality and incredible price.  We hope our Gotham Stack Master review has helped.