Are you like many homeowners today, confused and worried about the environmental state of our world? A large majority of the population is actively trying to slow the effects of many past mistakes.  Today we'll talk about the IKO Cookware Company and their footprint.
For example, some are choosing to drink plant-based milk rather than dairy milk. Raising milking cows can harm the atmosphere because of the methane released. Others are choosing to drive electric cars and recycle all of their wasteful materials.
There are so many options when it comes to healing our planet. Some can not afford an electric car or those whose dietary restrictions prevent them from choosing plant-based milk. Thankfully, there is a change that you can make today that is relatively cheap and quick to implement!
Turn to ceramic cookware! Making the change from stainless steel or traditional nonstick cookware is easy. The hard part is choosing ceramic cookware to trust. There are many ceramic cookware companies out there! Consider IKO. Continue reading to see if IKO is a trustworthy ceramic cookware company.
Who is the IKO Cookware Company?
IKO is a cookware company that provides ceramic cookware that is eco-friendly, stylish, contemporary, and functional. IKO works hard to provide for the needs of its customers. Many customers choose IKO over other ceramic cookware companies because of its price and versatility.
With four various ceramic collections, IKO gives its customers options based on their culinary needs. For example, those who value style over functionality should choose the IKO Crema Ceramic Cookware Collection. Others that require durability over style should choose the Stratum Triple Later Ceramic Cookware Collection.
IKO CERAMIC COOKWARE COLLECTIONS
Copper Ceramic Cookware
The Copper Ceramic Cookware Collection is a collection of various cookware pieces. The following pieces can be bought from the IKO Copper Ceramic Cookware Collection:
2-quart saucepan
5 quart saute pan
10-inch frying pan
6 copper tools
3 copper knives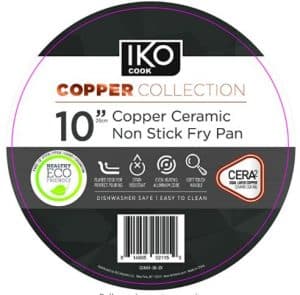 All IKO copper ceramic cookware pieces are coated with a copper and ceramic glaze. The glaze is a dual-layer copper ceramic coating. Around the outside of the cookware, pieces come in blue or gray. All materials in this collection are toxin-free and eco-friendly. There is no lead, cadmium, PFOA, and PFAS in IKO's collections.
Crema Ceramic Cookware
The following pieces can be bought from the IKO Crema Ceramic Cookware Collection:
3-quart saucepan with a lid
5-quart dutch oven with a lid
8-inch fry pans
5 fry pans
13×9 baking sheet
8×8 baking pan
Serving spoon
Slotted serving spoon
Slotted turner
Santoku knife
Utility knives
Paring knives
Stratum Triple Layer Ceramic Cookware
The unique thing about the Stratum Triple Layer Ceramic Cookware from IKO is its usefulness and durability! Those who have a nontraditional stovetop can benefit from this cookware collection. This collection is safe to use with ceramic, electric, gas, induction, and radiant stovetops.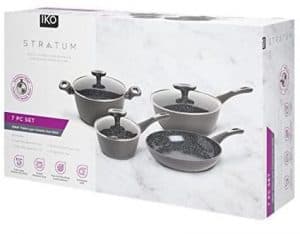 The durability of the Stratum Triple Layer pieces comes from the internal aluminum structure and thick ceramic coating. The aluminum structure works as a heat conductor and protector of the pans. Aluminum conducts heat fast and evenly.
Another testament to its durability is its dishwasher-safe feature. Most ceramic pots and pans can not be hand-washed, but not this collection! Those who do not have time for cleaning can easily throw their Stratum Triple Layer cookware in the dishwasher.
The following pieces can be bought from the Stratum Triple Layer Ceramic Cookware Collection:
5-quart dutch oven with lid
5 saute pan with lid
5 quart saute pan with lid
10-inch fry pan
Clad Ceramic Cookware
While the IKO Clad Ceramic Cookware Collection does not have as many pieces as the other IKO collections, they are still a great purchase. You can purchase this collection in two textures. They are both have metal exteriors, but you can buy a polished look or a satin look.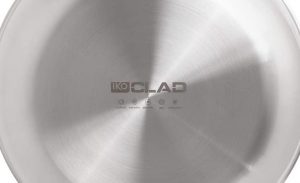 Each Clad pan has stainless steel handles, making it more sturdy than other ceramic pots and pans. Because of the stainless steel, the Clad collection is an induction-grade exterior.
The interior of the pans is glazed with a Cera2Pro Ceramic coating. This ceramic coating is thick and naturally nonstick. Most traditional pans require fat or oil for cooking; however, the Cera2Pro provides the necessary nonstick properties.
The following pieces can be bought from the Clad Ceramic Cookware Collection:
8-inch fry pan
10-inch fry pan
12-inch fry pan
Iko Cookware Company Reviews as Rated on Amazon
The Copper Ceramic Ceramic Collection has a 4.4 out of 5-star rating. Most of these high ratings focus on the heat distribution and durability of this IKO collection. The copper transfers heat quickly and evenly throughout the pan. Good heat distribution means uniform cooking for users; hence this is handy when cooking meats and large meals. The durability of the pan prevents any major damages to occur. A durable pan means a long-lasting pan!
The Crema Ceramic Collection has a 4.6 out of 5-star rating. Many customers enjoy the ceramic coating and the easy cleaning! The ceramic coating does not contain Teflon, like other traditional nonstick pans. Reviews state the importance of cooking healthy and without any questionable substances. Without Teflon or other major toxic chemicals, customers have peace of mind with the Crema Ceramic Collection. Another bonus of ceramics is the easy cleanup. Several reviews state that it is easy to wipe food away, and they don't need a dishwasher to clean.
The Stratum Triple Layer Ceramic Collection has a 4.2 out of 5-star rating. The biggest positive of this IKO collection is the stovetop capability and ease of use. The Stratum Triple Layer collection can be used on a variety of stovetops, including induction stovetops. The sturdy bottom and triple-layer ceramic make using this pan a breeze. The biggest downfall of this collection is the handle. Therefore, because the handle is held together with outward screws, they often come loose.
The Clad Ceramic Cookware Collection currently does not have any ratings on Amazon. While this IKO collection does not have any reviews on Amazon, it does contain many similar features to other IKO collections. Do you own a Clad Ceramic Cookware Collection? Let us know what you think about it!
We hope this IKO Cookware Collection Review helped you! With high ratings and many sales, it is easy to see that this is a trustworthy cookware company. Will you purchase an IKO pot or pan? Let us know!