My sister, to this day, is skeptical about pans and ovens after having a pretty bad experience with them. It turned out that the pan she used wasn't actually oven-safe, making a disaster out of her meal and almost burning her fingers in the process. After that incident, she stopped using pans in the oven altogether.  The question today:  Is My Green Life Pan Oven Safe?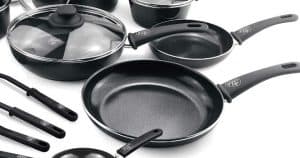 Not all pans can be used in the oven, which is why you need to buy ones that can. A great option to consider are GreenLife pans, which are suitable for cooking on smooth glass or ceramic ranges, as well as the oven. Not only that, but GreenLife pans are very affordable and budget-friendly. They are even environmentally friendly and don't come with risks like teflon—but the real question is, how well do GreenLife pans actually hold up?
Is My Green Life Pan Oven Safe?
Yes! GreenLife pans can be used in oven, making cooking easier than ever. GreenLife pots are also oven safe as well.  The temperature limit they are guaranteed to be safe for is usually determined by the handles and/or covers.
Their cookware is safe between 350 degrees Fahrenheit and 600 degrees Fahrenheit—beyond this, materials may begin to break down. Most GreenLife Soft Grip pans are oven safe until about 350° F, while the Classic-Pro pans (mostly used for frying) can handle oven temperatures up to 600° F. Amazingly, GreenLife pans are very much affordable when compared to similar pans.
Simply speaking, your GreenLife pans are designed so that they can easily be used in ovens. However, even though they are made to be oven-safe, there are limitations to the safe temperature range you can use them in. Be sure to use caution and know how your particular model will hold up before using it in the oven.
What about other GreenLife cookware?
Pots and pans are not the only GreenLife cookware that is oven-safe—other products such as their minis and stockpots can be used in the oven too. This is because their cookware is built and finished with diamond-infused ceramic coating, making them very thermally safe. The only real temperature limitation is because of their handle construction.
Are GreenLife Pans and Pot Handles Oven-Safe?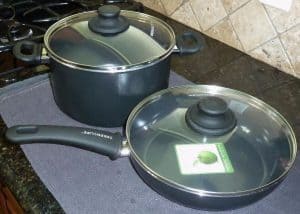 The handles of pans and pots are essential since they're how you move the cookware around. Thankfully, GreenLife pan handles can withstand oven temperatures thanks to their bakelite handles.
Bakelite is a material that acts as a thermal insulator and helps increase the thermal resistance of products. It's preferable to stainless steel handles because steel handles can get extremely hot when in an oven. Granted, you're still going to need hand protection before pulling these out of an oven.  However, you can rest assured knowing they'll hold up just fine.
Are The Lids Safe?
In addition to the cookware themselves along with their handles, the lids on GreenLife pots and pans are safe to use in ovens too. The temperature limit of the lids is the same as the handles, making them a great choice to use in the oven.
This is thanks to a heat-treated tempered glass design.  It's built from the ground-up to withstand the high heat in an oven.
How To Care For GreenLife Pans
Be careful not to burn the surface of the pan, as you may wear away at it over time. After GreenLife cookware has cooled, wash them with a mild soap and warm water using a gentle abrasive scrubber. After washing, be sure to hang your pots and pans.  Alternatively you can also place them in a pan rack so that they can thoroughly dry.
Are GreenLife Pans Right For Me?
GreenLife pots, pans, and other cookware make a great addition to any home.  Especially those who need the versatility of being able to cook on ranges and in the oven with their pans. On top of their versatility and reliability, their cookware is remarkably affordable as well.
By choosing GreenLife cookware, you can rest easy knowing your exceptional set of pots and pans is safe no matter how you choose to cook.