Whether you're looking for pots, pans, or even jumbo skillets, T-Fal is a fantastic option for your kitchenware needs. This brand is known for their household name and the quality of their products. They are however a low-cost option for household goods, which leads people to wonder, is TFal a good brand?
A little background on T-Fal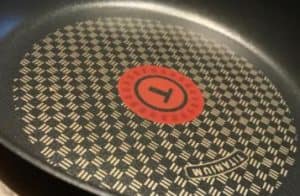 T-Fal, contrary to their price tag, is one of the top kitchen appliance companies in the world. Their nonstick products are sold almost anywhere and are ideal for first time homeowners or apartment renters! All of T-Fal's products are made from either steel, aluminum, or copper, which are ideal cooking materials. Additionally, the majority of their products are dishwasher safe and PFOA free!  So read on to answer is tFal a good brand.
What products does T-Fal sell?
T-Fal sells a wide variety of kitchenware products. They're most known for the following pieces of equipment:
Pots
Pans
Skillets
Mini Grills
Kitchen utensils such as serving or slotted spoons
Reason being, these are often the most popular appliances that people look for when they move to a new place so that they can cook! T-Fal prioritizes their customers needs by supplying them with the best kitchen appliances for your everyday needs.
Additionally, T-Fal sells these items:
Air fryers
Deep fryers
Bread makers
Pressure Cookers
Although these items are a bit more niched, the quality is just as fantastic as the common items that T-Fal sells!
Is T-Fal a safe brand?
A big part of the question is TFal a good brand is safety.  T-Fal is one of the safest cookware brands on the market. They're dedicated to customer service and satisfaction. All of their products are FDA approved for cooking a variety of foods! You can cook anything from your favorite chicken dish to a vegetarian alternative. There's no shortage of options with the T-Fal cookware brand!
Is T-Fal Teflon free?
Teflon is a chemical found in many popular cookware appliances. Its so widely used and known because it has a variety of desired traits including:
It's hydrotropic
It's nonstick
It repels grease and stains
However, this chemical also produces several toxic gases when heating to high temperatures above 650 degrees Fahrenheit. Now, many people hear that number and think there's no way their pans and pots are hitting that temp on their stove. However, with a burner on a high heat, it can read well over 700 in less than 5 minutes. This can lead to the release of toxic gases into the air and into the food that you're about to consume.
T-Fal cookware products are Teflon free, which is what make them a good brand! Their pots and pans and PTFE, PFOA, and cadmium free so there's no risk of harsh or toxic chemicals being released into the air or getting you sick from consumption!
Is TFal a good brand for nonstick cook wear?
T-Fal is in fact known for their nonstick cookware items! They offer a wide variety of products ranging from pots to pans to skillets to woks! They also sell kitchen accessories like spatulas and mixing spoons! All of which, are nonstick coated so they make excellent additions to your kitchen.
They're known worldwide for their nonstick appliances and are trusted by customers globally. Since their products are PTFE and PFOA free, their nonstick surface doesn't' put you at risk for getting sick from any harsh chemicals!
Is T-Fal a dishwasher safe brand?
The majority of products produced by T-Fal are in fact dishwasher safe! In fact, their entire line of pots, pans, skillets, and accessories are all dishwasher safe. The company knows that washing dishes can be a hassle that nobody has time for. That's why they made sure all of their standard household appliances are dishwasher safe.
However, you'll have to check out their specialty products such as their bread makers for yourself. These are not all dishwasher safe and need a more delicate hand washing simply due to the mechanics! However, they're all easy to clean and won't take up an excessive amount of time!
Are T-Fal pans oven safe?
All T-Fal pans are oven safe. They are safe for temperatures up to 350 to 400 degrees, which is the standard temperature for cooking most foods. You should never leave your pan in the oven for an extended amount of time though. Regardless of the temperature regulations, anything, when left in a hot oven for too long, will start to deteriorate. There's no way around that!
Try to avoid having the pan in the oven for more than 30-45 minutes at a time, or at least keep an eye on it!
What is the cost of T-Fal products?
This depends on what you're buying. So, let's break this down into some subcategories for ease of reading!
Single pots/pants/skillets
The average cost for a single pot, pan, or skillet is $40. This varies at least $20 in either direction though pending the exact product. Deeper set pots are going to cost more than a small, 8-inch skillet. Additionally, the material the product is made from will also take a toll on the price tag. Their entirely nonstick pots and pans to come with a heavier price tag than their traditional counterparts.
Cookware sets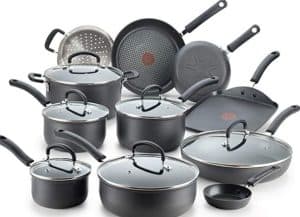 Cookware sets also vary in price, but the majority of them are under $300. We think that's a big part of the answer to is TFal a good brand.  That may seem like a lot but think about what you're getting. Most of their cookware sets come with at last 9 pots/pans, a colander, and kitchen utensils.
The more that you get in your cookware set, the most expensive the set will be. Additionally, their nonstick sets often cost more than their traditional sets. For example, their anodized, nonstick, 17-piece cookware set is just over $300. However, a similar set of 14 pieces that is made from stainless steel is under $100. It just depends on the material of the product, how many pieces you want in a set, and what you plan to use the items in the set for.
If you don't cook too often, you can likely get away with a smaller set of pots/pans/skillets that aren't made from those expensive materials. However, if you're a cook all-day-every-day type of person (power to you, first of all!), then you may want to splurge on the nice cookware sets!
Why are some T-Fal pots and pans different colors?
If you've checked out the T-Fal website, you've likely noticed that many of the T-Fal pots and pans come in a few different shades like black, red, and blue. This is primarily for aesthetic purposes to be completely honest. There isn't an underlying chemical or material reason for the colors. T-Fal wanted to appeal to a wide variety of buyers. This was the reason for them adding pots and pans of various colors. They're all part of the same collection, but just showcase some more fun colors to spice up your kitchen!
Are T-Fal products safe for gas stoves?
T-Fal kitchen appliances are perfect for both gas and electric stove tops. They're also great for ceramic and induction stoves. The materials that T-Fal's pots and pans are made from can withstand high temperatures without omitting any toxic gases. There's no need to fear your appliances burning, melting, or catching fire.
That being said, you should keep in mind that anything sitting on a hot stove, for an excessive amount of time, will start to melt. That's basic science and it will happen to even the most expensive, heat-resistant products. So, try to avoid leaving your pots and pans on high heat on your stove without tending to it. The last thing you want is to have to buy a whole new set of products.
What are the differences between the T-Fal cook wear products?
What makes T-Fal such a good brand is their dedication to providing a wide range of products to their customers for varying reasons. Some people want stainless steel and others want heavy nonstick appliances. It depends on you. Let's break down the pros and cons of each of these sets so that you can decide which set is best for your needs!
ExpertPro Cookware
Pros
The ExpertPro cook ware set is made from stainless steel
Ribbed interior makes for easy release of food
Safe on all stove tops including induction
Oven safe up to 400 degrees
Cons
It is not a nonstick product
More difficult to clean than other product lines
Cook n Strain Nonstick
Pros
The Cook n Strain Nonstick sets have pour-spouts on every product
They are completely nonstick
Easy cleanup
Comes with an attachable strainer for easy straining of liquids
Comes with a thermospot to let you know when the pans are perfectly heated
Cons
Items in the set are a bit bulky and there's only one skillet included
Signature Nonstick Set
Pros
Aluminum material
Fully nonstick material inside and outside
Easy clean up from even sticky foods
Thermospot technology to tell you when the pan is properly heated
Oven safe up to 350 degrees Fahrenheit
Cons
Cannot go in oven that is over 350 degrees Fahrenheit
Only the pots have pouring edges
Ultimate Hard Anodized Titanium Nonstick Set
Pros
100% nonstick material inside and out
Made from titanium for durability
Dishwasher safe
Anodized material
Oven safe up to 350 degrees Fahrenheit
Cons
Only oven safe to 350 degrees Fahrenheit
Only offered as a 12-piece set or as individual pieces
Excite Nonstick Cook Wear Set
Pros
Comes in 3 colors
Entirely nonstick on interior and exterior
Oven safe up to 350
Dishwasher safe
Wide variety of products in this set
Scratch resistant
Cons
Only the pans have the thermosensor
Only pots have pouring spout
 Color Lux Nonstick Set
Pros
Nonstick inside and outside
Thermospot technology
Dishwasher safe
Titanium interior and aluminum exterior
Oven safe up to 350 degrees Fahrenheit
Cons
Final Thoughts on is TFal Cookware is a good brand
Overall, T-Fal cookware is one of the best brands on the market today for people with a variety of budgets. With products ranging from $30-$300, there's something for everyone. Their wide variety of cookware sets also makes them a good brand for customers who aren't sure what they want yet. They can even buy single pots/pans from a few different collections to see which style they like the most!
They're safe to use, do not produce any toxic chemicals, and are a phenomenal option for cooking lovers and non-lovers alike!  We hope we helped to answer is TFAL a good brand.