Our first set of ceramic cookware was a Master Cuisine set.  On the low-cost end but the quality was still pretty good.  Before buying we read a bunch of the Master Cuisine ceramic cookware reviews and 9 out of 10 were 5 stars.
The set came with 3 different size frying pans, a stock pot and a sauce pan.  I think it also came with some plastic cooking utensils.
Features
Safe to use with no PFOA or PTFE – Teflon free.  I have read that cooking with Teflon is a no-no if you own birds.  So these Ceramic pans are perfect for that.
Stainless steel handles – These are nice that they won't rust but they do get hot when cooking.
Oven safe to 450 degrees. – This is a great feature to finish the meal in the oven.  However, I think the lids are only good up to 350 degrees.
Dishwasher safe. – We recommend hand washing to extend the life of the product.
Even heat distribution – they have a nice flat bottom.
Works on all stovetop types – our stove at the time was gas and they worked great.
Light weight – the pans a made from aluminum with ceramic inner coating.
Longevity
We knew that this was an entry level set when we purchased.  With that being said, if you take good care this set will last quite a while.  I think we had our set for 6 plus years and we gave it to one of the kids when we upgraded.  We did buy a second set to keep up to camp.  I will say that we bought a more expensive kitchen essential from Calphalon set and while a very nice set, the lower cost set was a better value.
Always hand wash.  A dishwasher can be brutal on them.  Hand washing with a mild soap and hot water prevents the banging and potential scratching inside the machine.
If something does happen to get stuck on, then soak in warm water and wipe with a soft cloth.  Never use an abrasive scrubbing pad.  I also used Bar Keepers Friend if there was any staining.
I used to make killer chili in the stock pot.  However, It would have a red tinge on the white ceramic surface from simmering for hours.  To clean it, I would soak in warm water and vinegar overnight.  Then if needed hit it with the Bar Keepers Friend.
Also make sure to only use plastic or wood utensils.  This will keep the scratches to a minimum.
Non-Stick?
I will add this about some of the comments I've read.  Some state these (and other ceramic pans) do in fact stick eventually.  I think the biggest tip to prolonging the non-stick ceramic surface is when cooking don't use a really high heat.   Some will say how do I sear my steak!?  I keep a cast iron pan around for just that purpose!
I also still use butter and or oil when I cook so I'm sure this helps as well.
And again, never use metal utensils.  This will scratch the surface and may cause food to stick to that scratched or worn surface.
Conclusion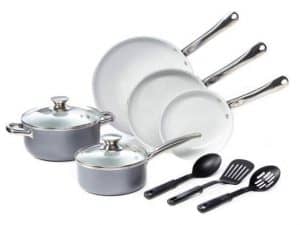 The Master Cuisine ceramic pans are the sweet spot.  Low cost but still a great value.  If well maintained they will last you several years.
The biggest issue now is finding them.  They are hard to come by.  But if you're looking for a nice cookware set and don't want to spend an arm and a leg then I hope our Master Cuisine ceramic cookware reviews have helped!