Avid bakers everywhere can attest to the joy of a bread pan. Specifically, a ceramic bread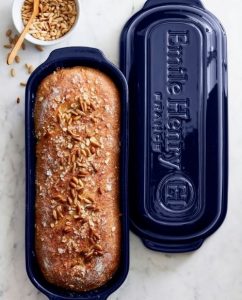 pan with lid. If you spend hours in the kitchen kneading bread and fermenting yeast to the perfect temperature only to have your bread too squishy or too burnt, you know the struggle.
With a ceramic bread pan with a lid, you can take some of that hard work off your shoulders. Lidded bread pans offer a unique design that helps create the perfect
loaf of bread.
Read below to find out more about ceramics, lid features, tips, tricks, and the most sought-after recipes for a ceramic bread pan with a lid!
Ceramic Bread Pan With Lid – Why Ceramic?
There are many bread pans out there. Bread pans are made of various materials
such as steel, stoneware, iron, copper, aluminum, glass, etc. Every material has its
benefits and downfalls. Ceramics are by far one of the more popular materials used
for bakeware.
Ceramic is most popular because of its non-stick features. Non-stick is a must for
all bread makers. Nothing is worse than flipping your bread out onto a cutting
board only for its bottom to be stuck to the pan. Ceramic works for its baker in this
sense.
For the health and chemical conscience bakers, ceramic is a great choice. Ceramic
bakeware is often free of PTFE (polytetrafluoroethylene). It is also often free of
PFOA (Perfluorooctanoic acid). Because of its lack of chemicals, it is the most
environmentally friendly option out of the other options.
Ceramic bakeware is also extremely resilient. Ceramic bread pans are resistant to
mechanical shocks. Shock resistance also means that the material works hard to
absorb the energy of the impact. Perfect for the baking clutz!
Another benefit to ceramic bakeware is its resistance to extreme temperature
changes, unlike glass. Glass bakeware can often be temperamental. Glass bakeware
should not be introduced to any drastic temperature changes. For example, straight
from the oven to cold water/refrigerator. This isn't a concern for ceramic bakeware.
While it may not be recommended, there is less chance of breakage.
Ceramic bakeware is also scratch-resistant and chip resistant. Due to its materials,
the bakeware is strong against metal utensils and the wear of time. It is ideal to use
wooden utensils with all bakeware, but it is good to know that ceramics are durable
against scratches.
Lid Features
Not only does the material, ceramic, offer unique features, but the lid is an ideal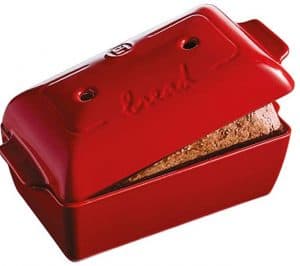 accessory to bread pans. Bread pans that are accompanied by lids provide a more
consistent bake. Every baker should try baking with a ceramic bread pan accompanied by lids.
A lidded bread pan is intended to create a better crust and airy interior for bread.
While baking with a lid, it should have a loose fit that is not too snug or tight. The lid's fit allows steam to be trapped inside the pan. With the steam trapped, the humidity level will rise in the pan. This higher level of humidity creates a crispier
crust and lighter interior.
Another aspect of the lids is the storage capability. After the bread is cooled and
sliced, it can be put back into the pan with the lid for temporary storage.
Tips and Tricks
Using a ceramic bread pan accompanied by a lid is fairly foolproof for novice bakers
and experienced bakers alike. However, there are a few tips, tricks, and hacks that
should be utilized by all.
When baking with a lidded ceramic bread pan, the baker can remove the lid 15
minutes before being done. The remaining 15 minutes can be allotted for browning
the top of the bread, which ensures an even toaster outside.
To get the most use out of your ceramic bread pan, it should not be used with
direct heat. Direct heat refers to gas heat and electric heat. Oven use and
microwave use are the ideal uses.
Once the ceramic bread pan is done baking, place it on a cloth or a cutting board.
By placing it on a cloth or cutting board, the pan can not damage your counters.
This also ensures that the pan is not damaged by any adverse surfaces.
Another tip of the trade is for those with trouble with non-stick. Before baking your
bread, generously grease (unless otherwise stated by the recipe). After generously
greasing the pan, sprinkle a dusting of flour. This combo of grease and flour helps
ensure that your bread will not stick to the pan.
Lastly, if there is food or bread stuck to the pan, there is a trick for that too! Fill the
pan up with water and vinegar and let it soak for as much time as needed. After
time has passed, scrape the food off with a cloth, napkin, or wooden spoon.
Recipes
Most recipes that thrive in lidded ceramic bread pans are no-knead breads. This
type of bread is great for those who hate to knead for minutes upon minutes. The
ceramic bread pan with a lid doesn't usually require kneaded bread dough.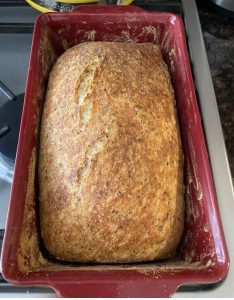 The ceramic bread pan is used mostly for rustic loaves of bread. Rustic loaves of bread have a thick crust and an airy interior. Another example of this is artisan bread. Knowing this, sweet and buttery loaves of bread are not ideal for this type of pan. Sweetbreads often have a soft crust and a moist center, whereas this does not meet the criteria for rustic loaves of bread.
Some good examples for the perfect loaves of bread to use with a lidded ceramic bread pan are as follows:
Rye Bread
Cheese Bread
White Bread
Artisan Loaves
Rustic Italian
Rustic Rosemary Garlic Bread
In Summary
The ceramic bread pan accompanied by a lid is perfect for every baker. It is
infallible and unfailing no matter your baking status.
Whether you are a beginner hoping to try a new hobby or whether you are a
professional baker looking to bake your weekly sandwich bread, this type of bread
pan is perfect for all!
There are many companies, brands, and designs out there. Look for your favorite
design, the best size, and a company you can trust.
After purchasing your lidded ceramic bread pan, get to baking your next best bread!