Seasoned bakers know the joy and importance of a well-stocked kitchen. Many chefs and bakers will argue that ramekins are required for a kitchen to be fully stocked.  So what are ramekins used for?
Novice bakers often do not realize the potential of a ramekin baking dish. Before understanding all the uses of a ramekin, you must first understand what a ramekin is.
What is a Ramekin?
According to the Oxford Dictionary, a ramekin (ram-e-kin) is a small dish for baking and serving an individual portion of food.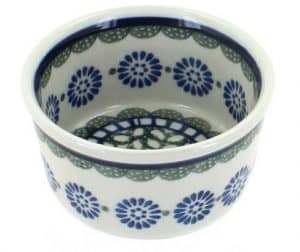 A more comprehensive definition is derived from the French word: ramequin. Ramequin translates to a cheese or meat-based dish baked in a small mold.
Thankfully, ramekins can be used for so much more than cheese and meat!
A ramekin is typically 3 inches to 4 inches in diameter and often 1.5 ounces to 8.5 ounces. Additionally, a ramekin is designed to withstand high temperatures. This is achieved by using materials such as ceramic and porcelain. People usually use the oven and kitchen blow torches with ramekins.
Ramekin walls are deep and tall so that items cooked will rise to the desired height. There is a lip around the edge ramekins to provide height without having an overflowing mess.
Now that we know what a ramekin is, let's find out how to use it!
Uses For a Ramekin – What Are Ramekins Used For?
There are three main uses for a ramekin: cooking, serving, and food prepping. The design of a ramekin makes it extremely versatile.
Not only can it be used for cooking and baking, but for serving and preparing food as well.
Cooking
The main purpose and positively the most popular purpose of a ramekin is cooking and baking. Many chefs use ramekins to cook savory dishes. Meanwhile, bakers use ramekins to prepare sweet desserts.
The unique design is exclusive for small dishes that require height, high heat, and individual servings.
Serving
Another use for the cute little dishes is serving. Due to their unique shape and small size,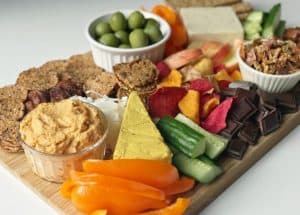 ramekins are perfect for serving various items.
People often use ramekins to serve appetizers, dips, sauces, and more. Decorative designed ramekins make excellent decorative serving plates.
Ramekins are not just white, simple baking dishes. They come in many colors, shapes, and sizes. This makes it worthwhile for those that love hosting,
Food Prepping
Use ramekins for food prepping. Many professional chefs will organize their ingredients before cooking or baking.
The ingredients are preweighed, premeasured, and arranged so that the chef may cook more efficiently.
By organizing with ramekins, it takes the guess-work out of cooking. It is pertinent for chefs to take their time and work carefully in the kitchen. By creating an assembly line of ingredients, chefs and bakers can thoughtfully prepare meals.
Ramekins are small and handy, professional cooks and household chefs use them to organize ingredients.
Foods to Cook, Serve, and Prep with Ramekins
While cooking or baking, there are many meal options. The most popular food in ramekins is desserts. As stated above, ramekins are designed for food that needs to rise. Deserts are often made in this fashion.
When I think about the question what are ramekins used for, this is the BEST answer – Desserts!  The following dessert items are extremely easy to use with ramekins and are super popular among veteran and household bakers:
Creme Brulee
Souffle
Cheesecakes
Molten Chocolate Lava Cakes
Cobblers
Pudding Cakes
Ramekins are perfect for more than just sweet desserts. Use ramekins for savory breakfast, lunch, and dinner items!
You can find many savory ramekin recipes online. Below are just a few examples:
Savory Pot Pies
Cheesy Baked Eggs
Mini Breakfast Casseroles
Lobster Mac and Cheese
French Onion Soup
Savory Bread Pudding
As stated above, ramekins aren't just for cooking and baking! You can use your ramekin for serving various items. Many serve items in their ramekins for parties, get-togethers, or casually for the household.  We also talk about some ramekins substitutes here.
For the charcuterie board lovers: ramekins make the perfect accessory to serve cheeses, jams, or meats.
Serve the following items in ramekins:
Nut Mixes
Petite Candies
Pickles
Jams
Olives
Sauce Dips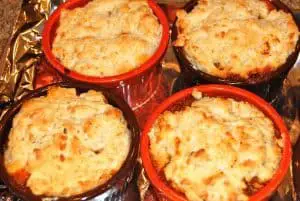 If you're not baking a tasty meal or serving appetizers at a party, you can use your ramekins to help with your next meal! Ramekins are ideal for weighing and organizing ingredients because of their small size. Some ramekins even come with measurement markings.
Pre-weighting and pre-measuring ingredients into ramekins are easier; therefore, they can make cooking easier. The following items are best to weigh or measure in ramekins:
Spice Blends
Oils
Sugars
Various Powders
Eggs
Baking Additions (chocolate chips, dried fruits, nuts, etc.)
In Summary
Ramekins are an exceptional addition to every kitchen! Use them for breakfast, lunch, dinner, and dessert and to cook at all times of the day! Their size makes them perfect for couples, families, and hosting.
Those hosting will want to buy ramekins because they are so versatile in their serving size and capabilities. It is exceptional for charcuterie boards, picnics, and parties!
Those who need help organizing their ingredients and those who get stressed out in the kitchen can benefit from ramekins. The best and easiest way to measure and systematize your ingredients!
We hope that answers the question what are ramekins used for?  With ramekins, you can improve and enhance your next meal!