Sale
There are countless options when it comes to cookware. Some cookware offers a 12-piece set in bright lime green, while others a humble 3-piece set in a classy matte beige. Either option could be what you need, depending on your kitchen and cooking habits.   Today, we are talking about the Pioneer Woman teal pots and pans.
This cookware set comes with pots, pans, lids, utensils, Anne Marie "Ree" Drummond's recipes, and guidance.
Anne Marie "Ree Drummond" is the Pioneer Woman, and she has gained a large platform over the years. Her Food Network television show first aired in 2011, effectively launching her into popularity. As her following grew, so did her line of products and cookbooks.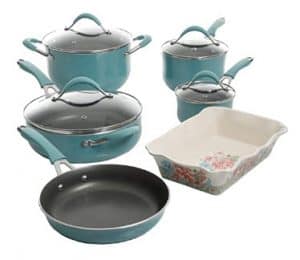 There are many Pioneer Woman cookware lines. One of her most popular is the Pioneer Woman Teal Ceramic Nonstick Aluminum Cookware. There are many reasons why this specific one is one of her more popular cookware collections.
Keep reading to see if the Pioneer Woman Teal Ceramic Nonstick Aluminum Cookware is worth your time and money!
Why You Should Buy the Pioneer Woman Teal Pots and Pans?
The Materials
These Pioneer Woman teal pots and pans are made with a ceramic exterior and an aluminum interior. The ceramic glaze is beneficial to its user in several ways. The first way is that it is toxin-free; this ceramic coating is PFOA-free and PTFE-free. Made without PTFE means that it will not release dangerous fumes into the air when overheated.
The exterior glaze is great because it is nonstick. The nonstick ceramic coating means that food will not stick, and cleaning will be easy.
The aluminum structure provides durability, uniform cooking, and quick heating. Because of the aluminum, customers do not have to worry about major damages or slow and uneven cooking.
Things To Be Excited About 
Pieces Included
The Pioneer Woman Teal Ceramic Nonstick Aluminum Cookware comes with many pots and pans. Also sold are dutch ovens and utensils. The following items are included in this cookware collection.
1-quart saucepan
3-quart saucepan with lid
5 quart saute pan with lid
5-quart dutch oven with lid
8 in skillet
10inch skillet
Egg pan
Acacia wood turner
Acacia wood handle
The Color
The Pioneer Woman Teal Ceramic Nonstick Aluminum Cookware comes in an ombre teal. Darker at the bottom and lighter at the top, this ombre design adds a flair of rustic sophistication to these teal pots and pans.
The turner and ladle are made with acacia wood, which adds a classy neutral tone to the overall cookware set. Outside of the teal and acacia wood utensils, you can purchase the Pioneer Woman Ceramic Cookware in gray and green.
Compatibility
This cookware collection is compatible with the following stovetops
Gas
Halogen
Electric
Vitroceramic
You can also use it in the oven up to 350 degrees Fahrenheit!
Positive Reviews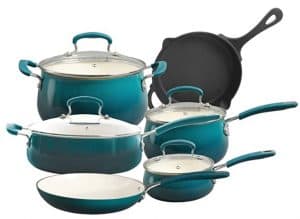 Many customers have purchased the Pioneer Woman Teal Ceramic Nonstick Aluminum Cookware and loved it! Below are some of the top-rated, most helpful reviews of these teal pots and pans.
"The ceramic coating is nonstick and easy to clean. The wooden spoons that are included are really nice and sturdy and help prevent any scratches or [wear] on the ceramic coating. I did not experience any sticking while cooking dinner or while trying to clean up [afterward]. This cookware is well made and I really enjoyed using it while preparing dinner for my family."
"I really love these not only the beautiful color but the functionality of them. The enamel ceramic nonstick cookware is awesome. I recommend this cookware it is just like the kind Ree uses on her show. And you get wooden utensils to use with them. A win-win in my book."
"This 12-piece cookware set has a beautiful ombré design. Usually, I don't purchase cookware sets because there [are] always sizes that I never use. I can honestly say I will get great use out of every piece in this set, including the beautiful acacia wood spoon and spatula. I love how the lids fit both the pots and the pans."
Why You Should Not Buy the Pioneer Woman Teal Ceramic Nonstick Aluminum Cookware
The Materials
On the positive side, the aluminum interior provides quick heating, and the ceramic glaze provides an easy-clean, nonstick surface. However, the aluminum has proven problematic in the Pioneer Woman Teal Ceramic Nonstick Aluminum Cookware Set.
Some customers have complained about warping. When pots and pans are heated too quickly or experience drastic temperature change, they can warp and become deformed.
Things to Be Worried About
As with many ceramic pots and pans, it is best to use them on low to medium heat. For some cooktops, this can be frustrating, especially when boiling liquids. When used on high heat, the nonstick surface can become damaged.
The aluminum structure is great for durability, but the ceramic surface is not as durable. Many customers have complained about chipping, staining, and sticky spots. Sadly, not many ceramic pots and pans can be used after they begin chipping.
Negative Reviews
While there are many helpfully positive reviews of these Pioneer Woman pots and pans, there are also negative reviews.
"I like the look of the cookware but the performance was not impressive. On my glass cooktop it took forever for the water to boil even with the lid on. I added my pasta and the boiling never picked up the pace. I had to use the lid to keep the pasta boiling. If you have a glass cooktop do not buy this cookware."
"The pan warped after a few times using it so now it spins like a record when cooking. I am throwing all of this garbage in the trash and buying a good set."
"Buyer beware. We purchased this set 18 months ago. The ceramic nonstick coating completely degraded. It is pitted and chipped. That started almost immediately and kept getting worse no matter how careful we were. This cookware is terrible for stains. Had to clean with baking soda and Dawn every time we made spaghetti sauce. We purchased these to replace a set of stainless-steel pots we had for 30 years."
Is it Worth Your Time and Money?
Yes and No. On the plus side, the ceramic material is a great bonus for those searching for an affordable, healthy, and eco-friendly cookware collection. Ceramic pots and pans are a must for those who are health-conscious. Also, the ombre teal is a beautiful color that can add a lot of life to your kitchen!
On the negative side, the Pioneer Woman Teal Ceramic Nonstick Aluminum Cookware Set is not high-end in quality. This cookware set can not be considered professional-grade in the cookware world. It is a simple, ceramic cookware set that offers the bare essentials, but nothing too impressive.
To summarize, the Pioneer Woman Teal Ceramic Nonstick Aluminum Cookware Set is a great starter set! These pots and pans would make an excellent gift for new homeowners or newlyweds. However, the Pioneer Woman Teal Ceramic Nonstick Aluminum Cookware Set will not last you a lifetime.
Did this honest Pioneer Woman teal pots and pans discussion help you? Let us know what you think of your ceramic cookware set!