Are you hunting for the perfect wedding gift for the newlyweds in your life? Maybe everything on their registry is out of your price range.  Every holiday, birthday, and occasion can benefit from the Staub Rustic Ceramic Bakers Set of 2!
Do you need a Mother's Day gift that will elevate Sunday dinners and provide a level of practicality for the mothers in your life?
Why not give current moms and new moms the gift of a meal and a dish?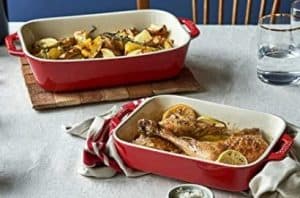 These Staub Rustic Ceramic Bakers is an excellent gift choice for everyone. There are many reasons why you should buy this set. To name a few: the manufacturing materials, the features, the colors, the company recommendations, and so much more.
Keep reading to find out why the Staub Rustic Ceramic Bakers Set is the perfect gift!
MANUFACTURING MATERIALS
Staub is a kitchen company that prides itself on high-quality cookware and bakeware. Originating from Alsace, France, Staub uses ceramic materials to craft each piece of cookware and bakeware. Ceramics is an all-encompassing material including clay, earthenware, porcelain, stoneware, and many others.
Ceramics
The Staub Rustic Ceramic Bakers Set of 2 interiors is made of a ceramic material. The exterior of this baking dish set is a glass porcelain-enamel coating. The glass porcelain-enamel surface is non-porous.
A non-porous surface is necessary for bakers and chefs because it will not absorb flavors, moisture, or stains. Not only is the surface protective, but it is also non-stick.
The Staub Rustic Ceramic Bakers Set of 2 and its smooth surface is a great addition to any kitchen. Ceramic materials are often chosen because of their durable qualities. Ceramic is almost an indestructible material.
The Staub Rustic Ceramic Bakers Set of 2 is also tough because of its weight. The robustness of the baking dishes creates mechanical shock resistance.
Baking dishes made of ceramic material are hard to chip and resistant to mechanical shock. Its toughness makes it a more heavy-duty baking dish. With that said, a great gift is a gift that won't break easily!
Why Staub Chose Ceramics
Ceramics are non-stick, hard to chip, resistant to impact shocks, and impenetrable. Those aren't the only reason that Staub chose ceramic materials for their baker's set of 2!
The shape and material of the Staub pans make it easy to store. The toughness of the exterior ensures that the bakeware will not be scratched or harmed while in storage.
This easy storage solution is also achieved through the stackability of this baker's set. This set of two can be easily nested within each other, and they can be stacked with other Staub baking dishes.
The ergonomic handles of the Staub Rustic Ceramic Bakers Set of 2 provide two benefits. Firstly, the handles are in place to provide control and sturdiness. You can freely move the baking dishes from one spot to the next. Secondly, the handles are made for serving.
Like most other ceramic baking dishes, Staub created these baking dishes with serviceability in mind. You can bake with them and serve with them too. The design and sophistication of the handles make it easy to go from the oven to the table.
Cookware companies typically seek out ceramic materials because it naturally retains heat. Heat retention is a must for keeping food warm and serving hot meals. If you are giving a new mother a hot meal and this baking set, you can be sure that it will stay warm.
FEATURES of the Staub Rustic Ceramic Bakers Set of 2
There are many features of the Staub Rustic Ceramic Bakers Set of 2 that chefs and bakers can make baking easy and more enjoyable.
Dimensions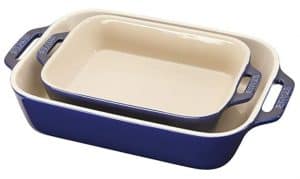 This set of two comes in two different sizes. The larger baking dish is 7.5-inch x 10.5-inch. This ceramic baking dish can hold up to 2.5 quarts of liquid. 2.5 quarts are great for meals such as macaroni, pasta, lasagnas, roasting meats, etc.
The smaller baking dish is 6-inch x 7.5-inch, and it can hold up to 1.25 quarts of liquid. A baking dish of this size is ideal for roasting vegetables, brownies, serving dips, etc.
Resistance
The pans are resistant to mechanical shocks, scratches, dents, and thermal shocks.
Due to their durability, weight, and sturdiness, these baking dishes are not easily scratched. As mentioned previously, the exterior coating is a non-porous, non-stick glass porcelain finish. This surface material is smooth and resistant to scratches.
Another reason that Staub chose ceramic materials to use is because of its temperature capability. This baker's set can be used in the freezer, microwave, oven, broiler, and dishwasher. These dishes can withstand temperatures up to 572 degrees Fahrenheit.
Colors
The Rustic Ceramic Bakers Set comes in many eye-catching colors and designs, Staub offers the following colors to their customers through their website:
Cherry
Dark Blue
Matte Black
Matte White
Rustic Ivory
Red
Turquoise
White
There are plenty of options to choose from. Staub hopes to match your kitchen scheme or your favorite color.
STAUB'S RECOMMENDATIONS
Staub has a handful of recommendations for those who own Staub Rustic Ceramic Bakers Set of 2. While these baking dishes are dishwasher safe, Staub recommends that owners hand wash their baking dishes. Handwashing rather than using a dishwasher increases the lifespan of the Staub Rustic Ceramic Bakers Set of 2.
Because the exterior is nonporous, these ceramic baking dishes will not absorb moisture. Moisture produced through baking and cooking adds a better texture, flavor, and experience to the dish. Meats will not be dry while using the Staub Ceramic Bakers.
The following meal options are suggested by Staub:  Roast Potatoes with Thyme, Candied Apple and Pear Crumble, Shrimp Tails with Garlic, Stuffed Beef Tomatoes, etc.
WHY IS IT A GREAT GIFT
Every kitchen needs a durable, trustworthy ceramic baking dish with a striking appearance. The Staub Rustic Ceramic Bakers Set of 2 comes in a well a set of two! Each baking dish can be used in a variety of ways; for baking, serving, or mixing.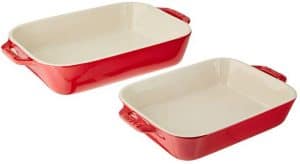 Newlyweds will love this variety and the Staub Rustic Ceramic Bakers Set of 2 will check all the basic boxes for a new household. New moms will love the sentiment, gift, and bonus of a meal. These Staub Rustic Ceramic Bakers are a great gift for the bakers in your life.
This set  is a great gift because it is non-porous, non-stick, easy to store, versatile, and an incredible serving dish.
This baking set is also resistant to shock, resistant to temperature changes, and resistant to scratches/chips.
Will you buy a Staub Rustic Ceramic Bakers Set of 2 for your loved one or friend? Which color did you choose? Let us know!