The All Clad Ceramic Fry Pan is guaranteed to be your next favorite purchase. It
is made with top-notch materials and created by a company that has been making
cookware since 1971.
This frying pan offers countless features that aid in every cooking situation. Coming
in three different colors, the All-Clad Ceramic Frying Pan works to fit in your
kitchen.
Above all, All-Clad strives itself on being a trustworthy company, their website offers the best Care Instructions and countless recipes.
Read below to find out why the All-Clad Ceramic Fry Pan is the best pan for you!
All Clad Ceramic Fry Pan – The Materials

The All Clad Ceramic Fry Pan is made with a steel core. The steel core provides
a level of durability that other frying pans lack. With a steel core, the frying pan can
heat up unwaveringly and evenly. The All-Clad Ceramic Frying Pan is guaranteed to
last longer partly because of its reinforced steel core.
While the All-Clad Ceramic Frying Pan is created with a steel core, it's coated in a
natural ceramic lining. The natural ceramic coating is both interior and exterior.
All-Clad designed its frying pan to be in this fashion to create cookware that can be
used to cook and serve. The ceramic lining adds class and sophistication to the
practical cookware.
As a result the frying pan's natural ceramic coating also makes the interior of the frying pan
smooth. This smoothness makes it easier to clean and creates a non-stick factor.
Another benefit to this material is its chip resistance. The steel core paired with the
ceramic interior and exterior helps reinforce the strength of the pan, making it chip
resistant.
The Features
Not only is the All-Clad Ceramic Frying Pan fabricated in high-quality materials, but
it is also designed with key features that make it better than other competitors.
Firstly, this frying pan has a flat base. The flat base makes it perfect for frying meats
and other food items. The flat base also makes it easy to baste food items while
cooking.
The frying pan also comes with high rounded sides. The high rounded sides are
perfect for frying and cooking with liquids. The perfect example that works well
with this feature is risotto. The flat bottom allows browning of the Arborio rice and
the high rounded sides are perfect for simmering the rice in cooking stocks and
wine. The high rounded sides offer an additional deep-dish quality to the pan.
Another feature that is excellent for cooking with liquids is the drip-free pouring
rim. The All-Clad Ceramic Frying Pan is designed with a rounded lip around the top
of the pan. This feature allows chefs to pour conveniently from the pan without fear
of making a messy kitchen.
This frying pan is handily compatible with all cooktops. You don't have to worry if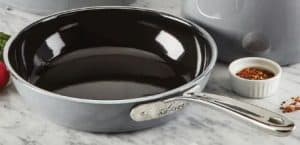 the All-Clad Ceramic Frying Pan will work in your kitchen. This frying pan can be
used with gas stovetops, electric stovetops, and induction stovetops and it is also oven safe up to 500 degrees. This feature allows its user to utilize the pan with both the stovetop function and the oven function.
Whether using it on the stovetop or using it in the oven, this frying pan comes with
secure grip handles. The handles on the All-Clad Ceramic Frying Pan are designed
to offer safe transportation and a secure grip. The handles are uniquely crafted in
the All-Clad German factory.
While steaming vegetables or simmering family meals, the lid that comes with the
All-Clad Ceramic Frying Pan fits seamlessly. This lid was invented with a steam
valve that allows steam and pressure to seep out. The steam valve will prevent
over-bubbling, a messy kitchen, and unwanted spillage.
Care Instructions
What makes All-Clad a noteworthy company is its care instructions. The All-Clad
Ceramic Frying Pan comes with a downloadable and printable user manual. This
user manual comes with cooking instructions, cautions, and cleaning instructions.
All-Clad instructs the users of their products on the best practices to ensure the
longevity of their products.
A FEW KEY TIPS MENTIONED ON THE ALL-CLAD CERAMIC FRYING PAN USER
MANUAL:
Cool the cookware before cleaning
 Rinse with HOT water to remove excess food
 Soak in warm, soapy water
 Use soft cleaning sponges, cloths, or nylon scrubbing pads
 Use boiling baking soda and water mixture for hard to clean spots
 Cleaning Products that work well:
● Cleaning Products that DO NOT work well:
Steel wool
Abrasive scouring agents
Oven cleaners
Chlorine bleach
The All-Clad Ceramic Frying Pan is dishwasher safe for those who do not enjoy the
act of handwashing dishes. The great thing about this frying pan is that you can easily
hand wash it with the tips above.
Colors
While many do not care about the color or looks of their cookware, many do. If you
are looking for a nice pop of color, then the Rose Quartz color would be a nice
addition to any kitchen.
The All-Clad Ceramic Frying Pan also comes in Platinum for those that like the
classic look of a silver frying pan. Many frying pans come in silver but paired with
the smoothness of the ceramic exterior, this frying pan has a sense of modernism.
Lastly, the All-Clad Ceramic Frying Pan comes in Onyx. A deep, rich black that is
sleek and lustrous. It may be hard to choose between Rose Quartz and Platinum.
The Onyx color is guaranteed to go with all color schemes and kitchen themes.
Perfect for the indecisive chef.
In Summary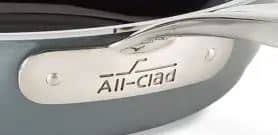 The All-Clad Ceramic Frying Pan is designed with state-of-the-art materials that
give it durability and robustness. The steel core and ceramic interior and exterior
provide a smooth, chip-resistant, and sophisticated finish.
The main features of the All Clad Ceramic Fry Pan are the flat base, deep-dish
capability, drip-free pouring rim, cooktop compatibility, secure grip handles, oven
safeness, and steam valve. All of its features, including the multiple color options,
create a frying pan that is worth any price.
Thankfully, All-Clad provides its customers with an extensive user manual that
surpasses the length of service. Using the All-Clad user manual is perfect for those
who wish to keep their All-Clad Ceramic Frying Pan for many, many years.