When my friends talk about getting household items, I stress telling them how important it is to research the brand. For example, I remember getting a food blender, and it was faulty within three months. I learned better from that single experience not to buy items without checking reviews.  So today lets talk about the T Fal Ceramic Cookware 18 Piece Set.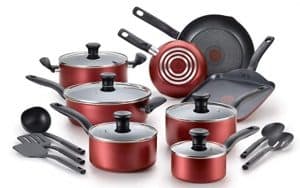 If you plan on getting a cookware set, you probably have come across the 18 piece set ceramic cookware from T-Fal in your research. Why most people go for cooking sets is that they are cheaper than when you buy individual cookware. Besides, it is convenient, since you get everything you need in one complete package.
This article will be looking at the T-Fal cooking set for people who want to stock up their kitchen with the necessary tools for cooking.
What About The T-Fal Initiative?
T-Fal is a reputable brand that makes quality household items. They make ceramic non-stick cookware that is available in both 14-piece and 18-piece sets. I prefer the 18-piece cookware set because it has everything you can think of. T-Fal has a product line called Initiatives, and this line comes with a unique set of cookware.
The pans are made of a mix of ceramic and aluminum, while the cooking pans are built with ceramic coating around them and up to their surface, with an aluminum base. The ergonomic handle design is made from riveted plastic material. The glass lid adds to its attractive design.
One of the perks of using this cookware is that the ceramic is lead-free. It also doesn't contain Teflon or Cadmium. The T-Fal Initiative cookware set can be used in the oven at low temperatures. If you are getting their cookware, you will be investing in quality. The company has been in business for over 60 years, and they have lots of innovative cooking items.
What You Get From Using the T-Fal Ceramic Cookware 18 Piece Set?
When you buy the 18-piece cookware set from T-Fal, you will be getting all the tools you need to make any dish or recipe. Here are some amazing features you stand to enjoy when you buy the T-Fal Ceramic cookware set.
Non-Stick Pans
The set of pans are all non-stick, which makes it very easy to clean. When you use them for cooking, it easily releases your food into your serving dish. This is because the pan uses a ceramic coating instead of the alternative, which is Teflon.
Cookware Construction
The ceramic cookware from T-Fal, as I mentioned earlier, is designed with a pressed aluminum base. The pans have enamel sprayed on their base, and it's completely baked on it so that your food can easily come off the surface of the pan.
Safe To Use
Cooking with T-Fal ceramic pans is completely safe. They don't contain any toxic chemicals or substances like you will find in copper pots. In addition, they are completely PTFE-free and PFOA-free.
Durability
If you are looking for a set of durable non-stick cookware for your kitchen, I recommend you get the T-Fal Initiative cookware set. Their pans are designed with ceramic coating, which is more durable than the Teflon alternative. You also get value for your money, considering how very inexpensive this cookware set is.
How To Clean and Maintain Your T-Fal Ceramic Cookware
The T-Fal 18-piece ceramic cookware is one of the best quality pans you can get within its price range. However, you can't compare its quality with ceramic pans. In addition, if you want your cookware to last, it would require a certain level of maintenance on your part.
You can use your T-Fal cookware for a long time if you follow these care tips.
Allow Pan Cool Before Cleaning
When you prepare your meals with these pans, you need to allow them to cool down before you get your dish soap on the pans. If you wash when it is still very hot, apart from burning your hands, it will make the pan depreciate quickly. When cold water touches the very hot pan, it weakens the pot's surface coating, causing it to separate from the aluminum base.
Use Paper or Soft Cloth Towel To Clean Pans
When your pan cools down after cooking with it, you can wipe it clean with a paper towel or soft cloth. The ceramic coating doesn't need any special agent to get it cleaned. Instead, you can use your dish soap and water to clean the surface when food is stuck tightly to it. Although T-Fal says you can wash with your dishwasher machine, it is better to clean it with soft material.
Proper Storage
When you are not using your pans, it is better to store them properly. If you stack the pans, it could cause it to scratch or dent. The ceramic coating will chip off and leave your pans damaged. Any friction on the surface is enough to damage your ceramic cooking surface.
Don't Use Metal Spoons
When cooking with your non-stick pans, it is best to avoid using any metal spoons. Metal can cause scratch marks on the surface of the pans. It will also cause the coating to chip off.
Don't Use Sprays
You should avoid using sprays when cooking on your non-stick pans. It is better to use a little butter or olive oil instead. The problem with using cooking oil sprays is that it can cause residue to build up on your pans and eventually cause it to char. It is also very difficult getting out the oil spray when cleaning and could damage the pan.
Is T Fal Ceramic Cookware 18 Piece Set Right for You?
If you are wondering why you should buy the T-Fal 18-Piece Ceramic Cookware, hopefully, this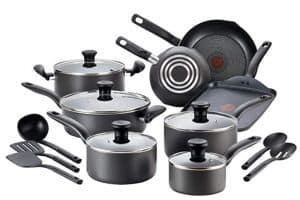 article has answered your questions. One reason I recommend this ceramic cookware from T-Fal is that it gives you value for your money.
If you are moving into a new house and need to organize your kitchen, the 18-piece cookware is an affordable option. It comprises pots, pans and serving dishes which you will need every day. It may not be a very durable option, but it comes at a very affordable choice.