How can you tell who makes the best ceramic cookware?  I had missed out on the perks of ceramics for a long time, and it took a visit to my grandparents' home. I was surprised to see my grandma use the same cooking dish to serve us. I was expecting the container to crack, but surprisingly it didn't. It is nice when you don't have to use up a lot of dishes for cooking and serving.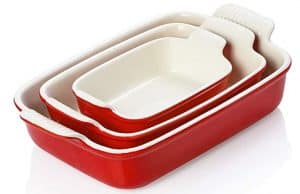 If you are considering getting good cookware, you should try out ceramic cookware. If you thought that non-stick pans were better, then you should know that ceramic is the best. In this article, we will show you what makes the best ceramic cookware.
Why Should I Cook with Ceramic Cookware?
One unique feature of ceramic cookware is its versatility. If you are looking for pieces that can stay on your burners, serve your food, and store in the refrigerator, you should consider getting ceramic. There are different types of cookware made from different materials, but my preferred choice is still ceramic. The other types are copper, cast iron, bronze, metal, aluminum, stainless steel, and glass.
However, ceramic wins over any other type because of its durability and other factors. Ceramic not only comes in attractive designs and colors, but it can also withstand higher heating temperatures. The thickness of the material requires it to heat a bit longer than other cookware types, but this only gives your food enough time to cook properly.
It is the safest cookware to use for your food because it doesn't release toxic chemicals or have the potential for any food contamination. Ceramic dishes are great for cooking meat stew because it allows the spices and flavors to penetrate the food properly, and it easy to clean this type of cookware because it is non-stick. If you don't like the hassle of washing dishes, you will enjoy using ceramic. You don't need to struggle with stubborn food particles, and ceramic dishes don't absorb stains.
 What Makes Ceramic Cookware Unique?
If you are to choose between ceramic and other options, there are some things you should factor in the comparison. One is how well your food will be cooked, and the second is the ease of maintenance. When you consider these two and compare ceramic with aluminum, stainless steel, or iron, you will always choose ceramic.
Aluminum heats fast, but there is always the issue of burnt food that sticks hard to the pan's surface. You would need to soak your aluminum pot overnight to get out some really tough stains and even need to do some scraping. Eventually, your pot is left with scratch marks, and it won't last before it needs replacement.
The same applies to stainless steel and iron cookware. However, with ceramic, you don't have such problems, and instead, you can cook your food properly. You won't have scratch marks on your cookware, and it is also easy to clean. Besides, you can hardly use your aluminum or iron cookware to serve meals.
There are also health concerns when you cook with copper. Copper can contaminate your food because it can release some copper that will cause major health issues. You can't keep your iron cookware beside other food items in your refrigerator because it could contaminate your food.
What About Heat Conductivity?
Apart from being non-stick cookware, ceramic is an effective conductor of heat. It retains heat and releases it slowly. When you cook with it, the heat circulates around your food to cook it from the inside. This feature makes it stand out from other cookware options. Heat cannot cause your ceramic to chip off or crack. It can maintain a particular temperature easily.
Aesthetic Appeal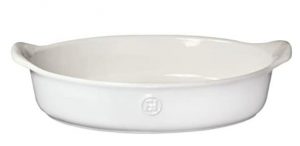 If you are looking for cookware that will complement your kitchen décor, ceramic should be your choice. There is hardly any other cookware that can compete with ceramic in terms of design or appearance.
This cookware type comes in a variety of color options and shapes. You can find ceramic cookware in oval, square, rectangular, and different designs. It is more appealing than stainless steel, which will develop scratches over time. Even when you use your ceramic for over 20 years, it will still look as good as new.
Who Makes The Best Ceramic Cookware?
Before you go ahead to buy your ceramic cookware, you should avoid exposing yourself and your family to lead. I recommend that you only get lead-free ceramic. Some companies previously included a glaze that contains lead for making decorative ceramic for cooking.
This lead makes the ceramic have a smooth and shiny feel. However, lead poses major health concerns. Therefore, it is important that when you are buying ceramic cookware, look out for only the Lead-Free ones. If you have any ceramic cookware containing lead, it can only be used for decoration but should not have any contact with your food.
The American standard insists on only lead-free ceramic cookware, so it's safe to get one from companies from this country. You can also find good ceramic cookware from companies like Corningware. They are a reputable brand, and they make very beautiful decorative ceramic cookware like Vremi, Greenlife, and many others.
Conclusion
Anyone who uses ceramic for cooking won't want to opt for another choice. It is quality cookware and one that is versatile. It can be used on your cooker, oven, microwave, fridge, and freezer. When you use it to serve your guests, it adds to your food presentation.
If you get the right cookware for your kitchen, you won't have any difficulty making meals. Ceramic is one of the types of best cookware you can get, and it will give you a hassle-free experience for years to come. Maintenance is so easy, and ceramic will last for many years. It won't scratch and, most importantly, will cook your food properly.
Now that you know everything, it shouldn't be difficult to find who makes the best ceramic cookware. I recommend that you find a reputable brand that makes quality and long-lasting ceramic cookware.