I was taught to bake with carbon steel bakeware from my teenage days. All our cookware were made from this material. My family used them for everything from roasting chicken to making casseroles and cookies. They heat up pretty fast but, on the downside, end up leaching the food or getting it burnt. Today we have amazing ceramic bakeware sets with lids.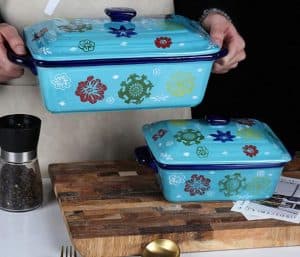 Over the years, I have learned that there are several safety issues with these materials. I switched to ceramic bakeware which have become my holy grail for baking for my young family of 4. I love that they're easy to clean and have recommended them to a few young mothers like myself in the neighborhood. Hopefully, if you're thinking of ditching your steel bakeware for a ceramic set with lids, my tips will help you choose one that will serve you for years.
Why Choose Ceramic Bakeware Sets With Lids
I began looking for an alternative to my carbon steel bakeware when I couldn't cope with the rate of burnt servings coming out of my kitchen. Ceramic bakeware was the closest to my needs. Their non-stick factor meant the baked food never got stuck to them, and the messes were easy to clean off.
I always had a few reservations about the safety of the ceramic cookware after I discovered that there were tendencies of some non-stick ware containing toxic "PFOA-rich Teflon" properties.
My fears were dashed after knowing that companies coated modern pans with sol-gel, a substance that minimizes surface-sacrificing properties. Fortunately, this coating is not released into the baked food when heated, unlike carbon steel, where the baked food directly contacts the metallic surface. With a lid over the cookware, there's no risk of heat escaping quickly.
If you fear the tendency of ceramic bakeware breaking easily, you have a point. I never let my little ones handle them in the kitchen with me. They're just as fragile as glass. One wrong move, and you will find your beloved ceramic shattered into pieces before your very eyes.
Despite the good things I have recorded with my bakeware, there are a few issues I have also encountered. I observed that it takes longer for my snacks to cook than on my old carbon steel. I guess that's an issue associated with its non-stick property. However, there's an even heat distribution going on. Hence, you need not worry about one portion getting cooked before the other.
What Makes Good Ceramic Bakeware
If you are looking for a ceramic bakeware set that comes with lids, there are certain things to keep in mind if you want to make a good pick.
I always exercise these precautions in every buying process, and I always end up with products that continue to serve me for years while others seek a replacement for theirs for barely a few months. Hopefully, you get the same results as I or even better.
Durability
Appearance is important in a table setting, and there's no better way to pull off a pretty table than with cookware that can serve as a presentation piece during special events. Ceramic bakeware are all about that, especially those that come with lids.
Most users, including myself, face how to keep them from being damaged, especially since they will have to undergo harsh temperatures in the oven. Unfortunately, there's a tendency for this material to crack when subjected to extremely high temperatures. This is why it's essential to take note of the material the bakeware is made from.
Porcelain and stoneware are two materials that can guarantee long-term usage. Plus, they're also scratch-resistant. Also, the ability to coordinate your sets properly will help prevent damage. The reason I always advise bakers to go for bakeware sets that can neatly fit into one another for storage.
Versatility
The best Ceramic dishware is multifunctional. If you go for those made with stoneware, you should be able to use them in various situations without issue. This includes the microwave, freezer, oven, and even your dishwasher. Most high-quality ceramic bakeware is dishwasher-safe.
Also, I have come to realize that bakeware with a smooth finish is unlikely to absorb flavors, odors, or food stains. This factor allows you to store food in a refrigerator without allowing the aroma of the food to escape and affect other items.
Handles
I can't emphasize enough the importance of going with bakeware that has handles for grip. Lids will minimize heat loss; hence the ceramic will take longer to cool off. With a grip handle, you can move the baked food effortlessly without feeling the heat inside the ware. Transporting from the oven to your dining table won't be difficult.
You must also keep in mind the possibility of the baked food reacting with the baking surface. This is why I hardly use acidic ingredients with my ceramic set. Also, I never use wooden utensils with my ceramic cookware as it might scratch the surface.
The Best Pieces Per Set
The number of bakeware you will find per set is different. 3-piece bakeware are the most common, but 12-piece ware is also another option. When it comes to quality, 3-piece wares are the best. They're usually made from stoneware, which makes them highly durable and good for storage.
Finding The Right Ceramic Bakeware Set For You
I have several ceramic bakeware sets in my kitchen, but only one of them comes with lids. This set has an added advantage when it comes to storage and hasn't shown any sign of cracking despite usage under high heat. The reason I can do this is that it's made from Porcelain.
Hence if you want something that can stand high temperature, I suggest you go for a Porcelain or stoneware piece. Secondly, you ought to know the condition your bakeware is made for as some are designed for low heat, while others are medium heat. Anything beyond their endurance threshold makes them crack.
Lastly, the number of pieces contained in each set is very important. Numbers are negligible if the quality of the material isn't sustainable.