For most people, baking is an art because it involves a special technique. You have to get the measurements right, apply the right heat level, and your baking dish must be of the right texture. I believe that every kitchen should have mini ceramic baking dishes for cooking.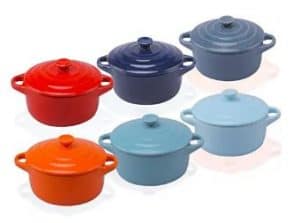 I have one handy for making noodle casseroles, mac and cheese, and lasagna for my family. I will pick my ceramic dish over any other baking dish, and for a good reason. Some people use metal, enameled cast iron, glass in oval, rectangle, and different shapes for baking, but I find ceramic baking dishes to be more functional.
Benefits of Using Mini Ceramic Baking Dishes
There are a variety of benefits of using ceramic baking dishes. Let's review how this clay baking dish is great and why you should get one for your own home and family.
Wood-Burning Oven Temperatures
You can't use just any type of cookware in your oven because of the high temperature. I will also advise you not to use just any baking dish too. If you have a high heating oven and use the wrong material, it could cause health hazards for you and your family.
Ceramic baking dishes can take almost any amount of heat and even from a wood-burning oven, which has a much higher heating temperature than traditional ovens. Therefore, when you use ceramic dishes, they won't flake and won't release dangerous toxins. I consider it a personal favorite for this reason.
You can also use your ceramic baking dish for your indoor kitchen oven, and it will come out fine after you take it out from the range. However, you may want to consider the temperature of your ceramic dish when you place it in a hot oven.
If you take it out from the refrigerator and place it inside the oven, it will likely crack because the dish is cold. You should let it stay a bit until it is at room temperature. I prefer ceramic dishes over any other baking dish because even though it takes longer to heat up, ceramic retains heat and will make sure the heat spreads evenly to cook your food properly.
Better Tasting Meals
Also, ceramic baking dishes compliment your cooking. It brings out the natural flavors in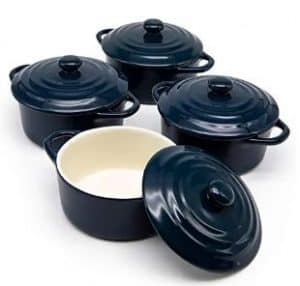 your cooking, so you end up with a delicious meal. In addition, you will appreciate using this baking dish when you use spices and herbs in your meals.
I usually add butter and olive oil as fat because the ceramic dish brings out the unique flavor in these ingredients. Also, you get even better tasty dishes when you use fresh fruits or even make dishes with beef.
Easy To Clean
One part about cooking most people wish they could skip is cleaning. However, if you have a ceramic baking dish, it is much easier to clean than other baking dishes. The ceramic dish won't scratch easily, and it is also easy to clean out all the small particles of food left without scraping the material.
The food slides off the dish easily, even if you burnt your food. You don't need to soak your ceramic dish overnight to get out stubborn food particles.
Non-Toxic and Safe For Use
If you are looking for a healthy baking dish, I recommend the mini ceramic dish. I believe it is better than any other cookware you will find in the market. Even though some people may prefer stainless steel, it is still not as safe as ceramic baking dishes. The ceramic dish does not have any metallic substance or chemicals that you find in stainless steel.
These dishes are made only from natural clay from the earth, which makes them safe. You also don't need to worry about allergies of any kind when your body touches the ceramic. Ceramic is one of the best cooking wares used in many cultures. It has proven to be the safest cookware for baking, cooking, and grilling.
Attractive Appearance
I can't talk about the benefits of the ceramic baking dish without mentioning its attractiveness. These dishes come in very beautiful colors, shapes, and sizes. They are made with perfect finishes, with some having a fine polish while others come in matte.
Ceramic baking dishes are a timeless piece, and they can never run out of fashion. They compliment your kitchen décor, and you will enjoy using your dish for many years. They are long-lasting and won't lose their texture or appearance even after an extended period of use.
Size
If you are thinking of buying a baking dish for your cooking, I will recommend you get a mini ceramic baking dish. Ceramic dishes generally only weigh a couple of pounds at most, and are even easier to carry out of your oven when you have a mini-dish.
You also get enough space to make other dishes at the same time when your baking dish isn't taking up all the space. It is also convenient having a mini dish that can easily go into your refrigerator when you want to store your meals or leftovers.
Why Mini Ceramic Baking Dishes Are So Great
There are many reasons why most people prefer using ceramic baking dishes. You can use your baking dish to make any of your favorite recipes like your casseroles, meats, savory hot dishes, and even desserts. They can withstand any heating temperature without damaging, and you also get the best taste from your food.
I have been using this strong, resistant baking dish for years, and it hasn't caused any problems. Ceramic baking dishes will cook your food to the right doneness and last longer than glass dishes or even metal dishes.
You can use it to serve your guests because it is attractive enough to stay at your dining table. In addition, they are quite affordable, especially when shopping around. I highly recommend mini ceramic baking dishes as an excellent addition to any cook's kitchen, and I wish you the best in sourcing one of your own.