Ours was an average family who couldn't afford all the "premium" cookware favored by those in glass houses. Thankfully, Paula Deen ceramic bakeware has become a staple in my household over the years, balancing affordability and practicality perfectly. However, since taking over "meal duties" from my aging mom, I've come to appreciate the excellence of this set myself.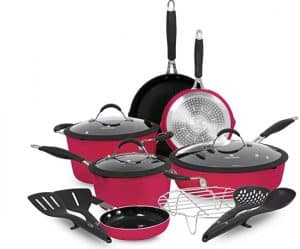 I love to bake, and many people are always amazed by the finish of my muffins. However, since I don't have many dollars to throw around, I have come to develop a love for Paula Deen ceramic bakeware because they're affordable, non-stick, and easy to grip – if you go for the one with handles.
A lot of my friends also wonder why I love Paula Deen's product so much. Well, now is the right time to spill the beans and reveal all that you guys are missing out on, especially if you make muffins, casseroles, or cupcakes!
What Does The Paula Deen Ceramic Bakeware Offer?
Paula Deen has earned a reputation for producing colorful non-stick bakeware that is affordable, rigid, and fit for baking any form of treats. The bakeware is favored for home treats but can be used for commercial purposes if supply is in small units.
Presently, their speckled bakeware seems to be catching a lot of attention, so we will be using it as the focal point of our review. What's so unique about the speckled design? Well, the speckle pattern is inspired by vintage enamelware. The popularity of this variant goes beyond its appearance or attractive color variants.
What I love is its durability. It's made to last for years and built for day-to-day baking. This means it's safe to use under high temperatures in your oven. However, remember not to go above 450 degrees Fahrenheit if you want a beautiful brown color. The enamel surface of the bakeware will give your treats a good finish.
I have already seen it at work when making muffins, casseroles, cupcakes, and bread loaf. The pan's non-stick surface means you can easily release the baking food without ruining the shape or making a mess. This is important if you're making large round cakes. But if that happens, the mess is easy to clean without even looking like you're trying.
Also, if you're like me, who loves to make a big loaf of bread for the family or baked whole chicken treats for easter, the wide handles of the baking pan will come in handy. This allows me to remove large baking foods from the oven without feeling the weight at all. With a lot of color options available, you will be able to find something that matches your kitchen style.
Paula Deen bakeware comes in singles or sets. You can choose to get the 4-piece set or buy it individually: whichever meets your budget size.
What Are Their Best Features?
Many people assume that because the Paula Deen cookware has non-stick properties, they can also use the pan set for their baking. However, they fail to understand that the bakeware can withstand more temperature range than the pan that comes with the cookware.
There are other features that make the bakeware perfect for your oven and I've mentioned a few of them below.
Paula Deen Ceramic Bakeware Offers Heavy Construction for Oven Heat
The popularity of this speckled bakeware isn't down to its design alone. Paula Deen made sure this bakeware has a more heavy-duty design than the cookware, which can only stand 350 degrees Fahrenheit of heat. What the heavy-duty design also gives is even heat distribution that allows the baking food to cook equally. With this, you will get an even golden-brown color when making cakes.
Lastly, the heavy-duty design means this is billed to last for a very long time. I have been using my bakeware for two years now, and they still look quite new.
Wide Handles for Comfortable Grip
You can't overlook the importance of going for bakeware with grips. They will come in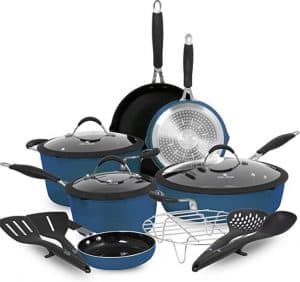 handy when you have to remove heavy foods like cake, bread loaf, whole chicken, and fish from the oven. The wider the handles, the more control you have as the baking food exits the oven.
Stain Resistant
Thanks to the enamel coating, the mess that sticks to the bakeware can be cleaned easily. A lot of users have tried washing this with a dishwasher.
While the results are encouraging, the manufacturers advise this should only be "hand washed." Using a dishwasher will affect the lifespan of the product.
Which is their best seller?
The Paula Deen ceramic bakeware comes in a 4-piece set which includes two small-sized pans, a medium-sized pan, and a large pan for large foods.
However, there's a separate 12-cup non-stick bakeware that doesn't come with the set. That has to be purchased individually. The 12-cup pan is perfect for making cupcakes and muffins.
Care Instructions for Longevity
Many users reported that the non-stick coating of their Paula Deen bakeware began to peel off after just four months of use. Well, if you want your bakeware to last for at least four years, there are certain precautions you need to take.
First, you should never use a dishwasher. The bakeware should only be hand washed with soap and water. Also, you should never use an iron sponge on the surface, as this will damage the bakeware coating.
Secondly, it's essential to stick to the recommended temperature level. The cookware is safe within an oven heat of 450 degrees Fahrenheit. Anything above causes damage to the bakeware as well as the baking item. You should be able to use your bakeware for as long as possible if you carry out these precautions.
Final Verdict
I have been using my Paula Deen bakeware for two years now, and the non-stick coating is still in place. But I must confess, this bakeware is quite fragile. Hence, it's not for you if you want something that's dishwasher safe.
Also, with varying sizes of pans, you can use the bakeware for cooking foods of varying sizes: small-sized cupcakes, medium-sized birthday cakes, or even a whole chicken. The color options are also attractive and would add extra class to your kitchen.