David Burke is a well-renowned American chef. Burke has accomplished more than simply creating prestigious recipes and meals, he has won many awards, innovated multiple cookware lines, and appeared on popular television shows.  Before we dig into the David Burke cobalt ceramic fry pan, first a little background.
Through his work as chef and creator, Burke has been awarded the following awards:
Japan's Nippon Award of Excellence
Robert Mondavi Award of Excellence
Culinary Art Institute's Auguste Escoffier Award
James Beard Foundation Who's Who in Culinary Arts
Nation's Restaurant News awarded him with the Menu Masters Award
New Jersey Red Cross Clara Barton Humanitarian of the Year
James Beard Foundation Best Chef New York
Time Out New York Best Culinary Prankster
Burke was also the first American to win the Meilleur Ouvriers de France Diplôme d'Honneur! During his time as a successful chef, he appeared many times on television's Top Chef series.
Burke has branched out into various innovations outside of the kitchen. He has embarked on the journey of creating high-quality cookware.
Out of all David Burke's cookware lines and pieces, some pieces stand out from the rest. Specifically, the Cobalt Ceramic Fry Pan.
Want to know more about the many cookware and bakeware lines of David Burke? Keep reading to learn more about our personal favorite, The Cobalt Ceramic Fry Pan, and why we think it is an excellent addition to any kitchen!
David Burke Bakeware and Cookware
As a professional and established chef, David Burke understands what is considered good cookware. That is why he set out on a personal mission to create professional-grade cookware for individual homes and families.
Burke has worked with cookware manufacturers to produce numerous cookware lines that he has staked with his reputation.
Burke's Black Cube Fry Pan
The Black Cube Cookware line consists of many basic kitchen items such as fry pans, woks, dutch ovens, saucepans, and others. Burke's Black Cube Fry Pan is stainless steel and with three-ply construction, creating extremely durable pieces.
Unlike other kitchen brands, Burke's Black Cube Fry Pans are free of PFOA and are oven-safe up to 500 degrees Fahrenheit. Many customers enjoy this cookware collection because of its textured surface and durable construction. The surface of the pan is non-stick and heats food quickly.
Burke's Bakeware Collection
This rose gold bakeware collection by David Burke is in high demand because of its physical appearance and its baking features. The Bakeware Collection is created using a diamond-infused surface that increases the airflow while baking. This influx of airflow promotes uniform baking and even heat distribution; two things that most bakers look for in bakeware.
Similar to the Black Cube Cookware line, the bakeware collection is free of PFOA and PTFE. The internal structure of this bakeware consists of heavy gauge steel which enforces heat distribution and durability.
David Burke's Ceramic EZ Release Fry Pan
The Ceramic EZ Release Fry Pan is a ceramic cookware item produced with aluminum and ceramics. The aluminum is used for the base and internal construction of the Ceramic EZ Release Fry Pan. Many manufacturers use aluminum because aluminum conducts heat very quickly, which cuts down on cooking times. Instant gratification is not lost on chefs, after all.
The ceramic coating is non-stick and heat resistant. According to Burke, the ceramic is double layered for easy cleaning, heat resistance, and durability. To add on, the base of the EZ Release Fry Pan is compatible with induction stovetops.
David Burke's Cobalt Ceramic Fry Pan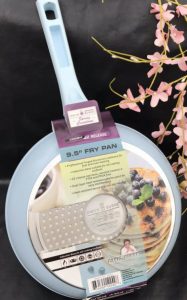 The Cobalt Ceramic Fry Pan has an internal structure of aluminum. Aluminum is often used with frying pans because it is both lightweight and durable. With aluminum, frying pans can heat up faster than other metals.
The surface of the Cobalt Ceramic Fry Pan is manufactured using cobalt infused ceramic for the coating. The ceramic glaze creates a non-stick surface for chefs. Many customers enjoy this ceramic fry pan because of its non-stick surface.
The non-stick surface makes cooking and cleaning a breeze. Because no food sticks to the pan, customers can gently wipe away the remaining food while cleaning. The Cobalt Ceramic Fry Pan is also dishwasher-safe.  As with all our discussions we prefer not to wash them in a dishwasher.
Despite being a ceramic cookware item, this frying pan is extremely durable. It is safe to use with metal utensils and is compatible with most stovetops. The Cobalt Ceramic Fry Pan is compatible with the following stovetops:
Ceramic
Electric
Gas
Halogen
Induction
In combination with versatility, the handles of the Cobalt Ceramic Fry Pan are a bonus for chefs. The soft-touch handles are guaranteed to be a rapid cool handle. With a wide surface area, chefs have a large cooking surface with their Cobalt Ceramic Fry Pan.
For a unique feature unlike many other David Burke frying pans, the Cobalt Ceramic Fry Pan has extra-wide pour spouts along the rim of the pan. These pour spouts are easy for chefs to use easily and without spillage pour and serve.
Black Cube Fry Pan vs. Ceramic EZ Release Fry Pan vs. Cobalt Ceramic Fry Pans
While each David Burke fry pan has its unique capabilities, they each have their differences. These frying pans differ mostly in durability, heat conductivity, and materials.
The stainless steel interior of the Black Cube Fry Pans with three-ply construction allows customers to drop and bump their frying pan without fear of any major blemishes. However, the Ceramic EZ Release and Cobalt Ceramic Fry Pans are not as durable.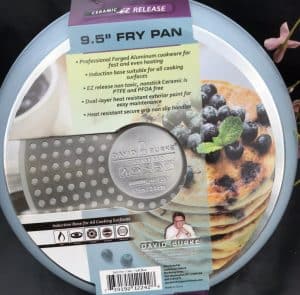 Between the Cobalt series and the EZ Release series, the Cobalt frying pan is sturdy. Both the EZ Release and Cobalt frying pans are made with an aluminum base. Aluminum provides them with a comfortable level of durability. The Cobalt Ceramic Fry Pan is dishwasher safe, which adds to its strength.
The Black Cube is also oven-safe. Due to its soft-touch handles and ceramic coating, the Ceramic EZ Release Fry Pan and the Cobalt Ceramic Fry Pan are not oven safe.
The Black Cube collection is manufactured with stainless steel and a textured surface. The EZ Release Fry Pan and Cobalt Ceramic Fry Pan have an aluminum interior and ceramic coating.
The ceramic coating ensures that the pan is free of toxic substances, heavy metals, and other hazardous materials.
Should You Purchase the David Burke Cobalt Ceramic Fry Pan?
There are advantages and disadvantages to owning a David Burke Cobalt Ceramic Fry Pan. Many customers take comfort in the fact that David Burke, a multi-awarded professional chef, has worked with manufacturing companies to create a healthy and safe frying pan.
According to David Burke, his cookware collections are a testament to his love of high-quality kitchen necessities,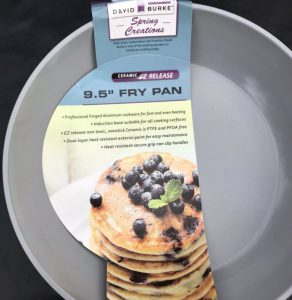 "I have always wanted to offer a signature line of cookware and utensils that represents exactly what I use in my restaurant kitchens. Everything you will see in my signature line is professional-grade and battle-tested in my kitchens by myself and my team of executive chefs. I guarantee every item will meet the highest standard of professional integrity. If you are stepping up your game in the kitchen, you have come to the right place!"
When owning a professional-grade cookware item, customers must understand the maintenance and procedures of each piece. High-quality ceramic frying pans have many restrictions. As a result, the non-stickiness of the pan will only last as long as customers cook on low to medium heat.
While the Cobalt Ceramic Fry Pan is at a disadvantage because of its high maintenance procedures, it has the advantage over non-ceramic cookware. Non-ceramic cookware does not have the same guarantees. Ceramics are made without toxic chemicals or materials.
Cooking with a David Burke Cobalt Ceramic Fry Pan can be enjoyable for those that require a toxin-free, eco-friendly, non-stick ceramic frying pan.
Do you own a David Burke Cobalt Ceramic Fry Pan? What do you love about it? Let us know!