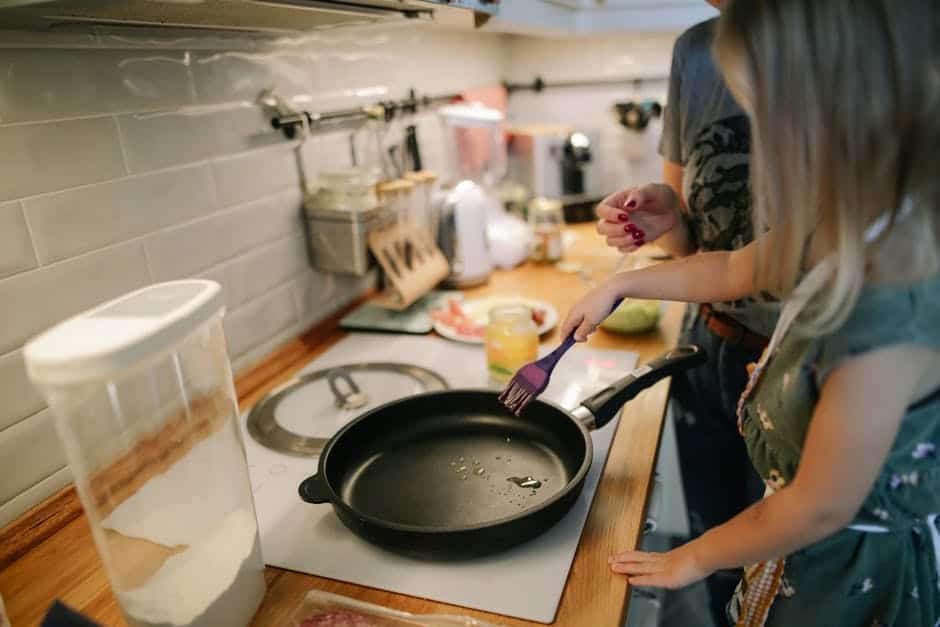 You're thinking of purchasing a ceramic frying pan.
After all, they offer a wealth of benefits – they're affordable, easy to clean, environmentally friendly, and cook food to perfection every single time. Even eggs!
However, with such a huge range of ceramic frying pans to choose from with their own pros and cons, it can be difficult to pick one.
That's where we come in to help – check out our list of the top 10 ceramic frying pans on the market today. Happy cooking!
1. Calphalon 2-Piece Classic Ceramic Set
A two-piece ceramic frying pan set is a great choice, as it's good value for money and it's always useful to own more than one pan. Unfortunately, there are few choices when it comes to two-piece ceramic frying pan sets.  The kitchen essentials from calphalon is also a great set!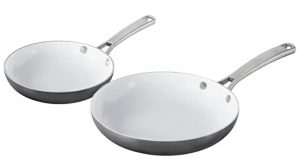 This set, however, is one of the best. It's made just how cookware should be, featuring proper cladding, a riveted handle, and solid construction. If you're seeking a two-piece set of high quality at a fair price, this is the one to go for.
2. GreenPan CC000028-001 Paris 10 Inch Ceramic Non-Stick Fry Pan
In the culinary non-stick world, GreenPan is a brand that has been creating a name for itself due to the fact that they offer high-quality products at reasonable prices.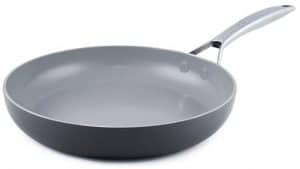 This ceramic fry pan by GreenPan impressively boasts a strong review score through both their website and through Amazon.
When cooking, one big plus of this product is that it offers a very even heat distribution, allowing for a balanced cooking experience. Depending on your requirements, it can be purchased in various sizes – 8", 10", or 12".
3. WearEver® ceramic C94433 skillet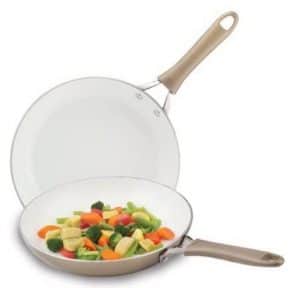 This ceramic frying pan is available in stylish gold or red and will work on electric, gas, glass, and ceramic stoves.
The ceramic non-stick skillets are PTFE-PFOA, lead, and cadmium-free, making for healthy cooking every time. You may find that you'll need to season the pan with coconut oil, olive oil, butter, or any other type of cooking oil before use for non-sticking in the future, however.
4. GreenLife™ Ceramic Cookware 2-Piece Non-Stick Ceramic Fry Pans
This affordable two-piece set comes in turquoise or red  and the pans are sizes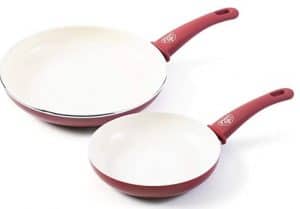 7" and 10" so you have a choice depending on your cooking needs.
The 12" skillet with its curved edges is fantastic for cooking a larger amount of food as the curve keeps the food centered inside – no spillages here! The handles grip well too, and once cooked, the food slides smoothly out of the pan.
Don't worry about staining either – even tomatoes or dark spices won't mark the ceramic coating.
5. Tramontina Style Ceramica Fry Pan
This Tramontina model is one of the best ceramic frying pans on this list. Why?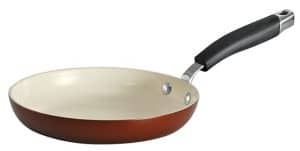 Food cooks quickly and thoroughly, it's super easy to handle, it's simple to clean, and food won't stick. Simply follow the directions for using the pan and you'll find that your eggs slide right off it!
Available in a trendy metallic copper, it's available in sizes of 8" and 12" – though it does come without a lid.  It has a nice silicone soft-grip handle.
The high quality of this pan makes it a superb option for your first purchase of a ceramic pan, or alternatively, it would make a fantastic gift.
6. Cuisinart® Elements Open Skillet with Helper Handle
This Cuisinart® model features a useful helper handle for lifting on the front and comes in 8", 10", and 12". It's available in red.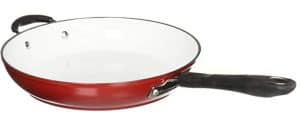 It cooks to perfection every time, is super easy to clean, and nothing sticks to the pan making this a great choice when choosing a first ceramic frying pan.
7. LE CREUSET® Toughened Nonstick 12-Inch Shallow Fry Pan
Le Creuset is one of the most renowned kitchen brands around the world, so this ceramic pan is sure to be an excellent choice of professional ceramic cookware.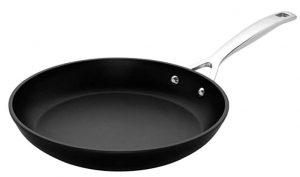 Produced with a stunning stainless-steel exterior and an interior of non-stick coating, this pan is the perfect option to help you cook using fewer oils and less fat. Say hello to healthier cooking!
The three layers of coating offer impressive durability and even cooking throughout the process. As well as frying, it even offers oven baking. Win-win!
Although a pricey option, you can be assured of high-quality and durability with this brand.
8. All-Clad d5® Non-Stick Sauté and Fry Pan
This strong and hard-wearing ceramic pan will offer fantastic cooking for years to come. Although great for home use, this non-stick pan is very popular with professional chefs.

Featuring five alternating layers of aluminum in the center and stainless steel on the outer surface, this pan is perfect for browning, searing, and sautéing food. Expect eggs and other cooked foods to simply fall right off the pan!
The handle is heat-resistant and cool to touch, so you don't have to worry about burning your fingers during the cooking process too.
9. T-fal® Non-Stick Sauté Fry Pan
This best-selling pan is a unique choice as it features a red thermo-spot heat indicator to illustrate the correct preheating temperature. It works by turning slightly darker and the design in the center of the pan fades into the red circle.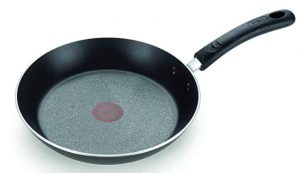 Not only is it handy in this way, but it's also dishwasher safe, warp resistant, and can cook food in the oven.
Expect eggs, meats, and all other cooked foods to come off easily with or without a spatula!
10. Rachael Ray™ Cucina Nonstick Skillet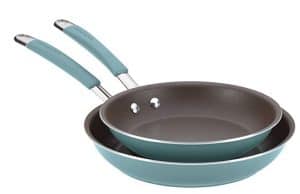 This ceramic frying pan features a helper handle produced with silicones for a comfortable
and secure grip while cooking. You can expect all meat, veggies, sauces, and more to be evenly cooked throughout the process.
Plus, the non-stick interior surface is super easy to clean so you don't have to spend time scrubbing away!
Ready to Purchase Your Ceramic Frying Pans?
If you're seeking a pan that offers a healthier, smarter, long-lasting, environmentally friendly, and affordable way to cook your cuisine – then ceramic frying pans are the choice for you!
If you've decided which ceramic frying pan works for you, then you may be wondering how best to use and look after your ceramic kitchenware. Check out our article to learn how!