With every major cookware brand preaching that their frying pan is the best, how do you know who to trust? Which material should you buy?  Let dig into Ceramic Frying Pan vs Teflon.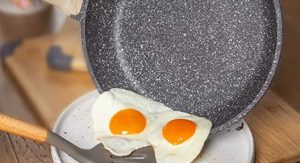 Should you buy ceramic? Stainless steel? Teflon? Cast Iron? Is ceramic and non-stick cookware the same? Which is better: ceramic or non-stick cookware?
The two most popular frying pans, in my book, are those made with ceramic and those made with Teflon.
Ceramic frying pans and Teflon frying pans have many similarities and many differences. Each pan is made with different materials, unique features, and has been around for years.
Read below to find out which is better: Teflon versus ceramic!
Ceramics
Ceramic cookware is made without PFOA (Perfluorooctanoic Acid), PFAS (Polyfluoroalkyl Substances), PTFE (Polytetrafluoroethylene), lead, and cadmium. Many turn to ceramic frying pans because it is toxin-free. Users can use ceramic cookware without fear of harmful fumes leaking into the air.
The material, ceramic, is a good material for heat retention. Heat retention means that even after the frying pan is removed off of the stovetop, it will retain its heat for some time afterward. That is why people love ceramics! Because it keeps food warm after it is done cooking.
Some ceramic frying pans are dishwasher safe, but some are not. It all depends on the brand. In my experience, the more popular and larger ceramic cookware brands are dishwasher-safe.
Another reason people love ceramics is that they are non-stick. The ceramic coating provides a smooth, polished surface. Ceramic coating provides easy cooking and easy cleaning. In many ceramic pans, you do not even need any oils. In other pans, such as frying pans and stainless steel, butter, or oil here. The outer layer is so smooth that you can cook without oils. For those counting calories, ceramic pans could be a great help in minimizing fats.
Teflon
Also known as polytetrafluoroethylene or PTFE, is a chemical coating. This coating was created to provide a non-stick glaze for metal pans.
It is highly resistant to high temperatures on a stovetop. Many enjoy Teflon pans because they can handle high heat while maintaining their non-stick properties.
Cookware is wrapped in polytetrafluoroethylene or Teflon to provide a non-stick surface. If you take good care of your pan, Teflon will keep its non-stick quality.
Not only is Teflon non-stick, but it is also extremely durable. Chipping, scratching, and denting are hard to do with a Teflon frying pan because of its sturdiness. The original reason PTFE was used in cookware was to provide a layer of strength and durability.
How Are They Similar?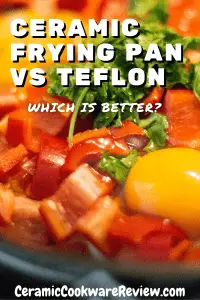 With each pan having its own unique features, they overlap with some similarities.
Both the ceramic and Teflon pans are non-stick. Each material offers a smooth glaze that creates a non-stick surface for cooking. This non-stick feature will eventually wear off with time, but it will last longer if they are treated with care.
It is recommended that you use wooden, silicone, or heat-resistant nylon utensils with ceramic and Teflon pans. Using metal utensils can increase your chances of scratching the cookware. With more damages, the less efficient the surface becomes.
They are both easy to use and easy to clean. The materials ceramic and Teflon create such a smooth surface that cleaning is a breeze. As long as it remains non-stick, food and residues can easily be wiped away with gentle detergents and soft sponges.
How Are They Different
While considering a pan of ceramic vs. Teflon pan, their differences can sway you one way or the other. The following items are the major differences between these two materials:
Teflon was wrapped up in a scandal when scientists began studying the properties of perfluorooctanoic acid or PFOA. It was found that when PFOA was heated up to a high temperature, it would release a harmful fume. PFOA fumes could increase the chances of infertility, testicular cancer, organ diseases, and thyroid disorders. HOWEVER, Teflon eliminated the PFOA by 2013. Ceramic frying pans are much healthier than Teflon. Not only in their original PFOA-free design, but in production as well. Producing ceramic cookware leaves a much smaller earthly footprint than Teflon.
Ceramic cookware is slightly less durable than Teflon. Teflon is a far sturdier and stronger material than ceramicware. If ceramic cookware is used on high heat, it ruins its non-stick quality and creates a sticky pan. Not only does it create a sticky pan, but it also weakens the material. A ceramic pan is more likely to chip or scratch if it is used improperly.
Ceramic Frying Pan vs Teflon
Teflon was created to provide users with a non-stick cookware line, and they did that! Not only is it non-stick, but it is also super durable. Durability is a must for households that are clumsy and known for damaging their pots and pans. If you choose Teflon, do not heat it over 500 degrees Fahrenheit because it is safer for you and your pan.
Ceramic cookware, similar to Teflon, is a great non-stick option for households. Those who care about their health and the environment should choose ceramics. The production of ceramic is better for the environment. Using a ceramic frying pan is healthier because it is toxin-free, lead-free, and cadmium-free. Ceramic cookware retains heat and is perfect for those who like their food to stay warm after cooking.
Teflon is for those who require durability, and ceramics is for those who are environmentally friendly.
Now that you have all the information, which will you choose? Ceramic or Teflon? Let us know!