Do you love apple pie? Do you love baking apple pies? One of the biggest problems with baking apple pie is finding the best recipe. Baking thirty apple pies using various recipes sounds like a daunting task.  Let's discuss making mini apple pies in ramekins.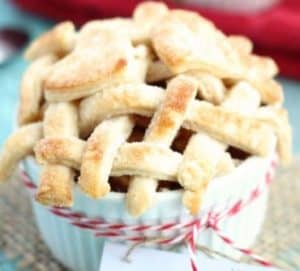 What if I told you that there was a way to test all the recipes you wanted without wasting your ingredients or time? Try using ramekins. By using ramekins, you can try a different recipe at a minuscule level.
Keep reading to find out how baking mini apple pies in ramekins can help you find the perfect recipe!
CRUSTS
If you google "apple pie crusts", you will find hundreds of recipes. You will also find hundreds of people claiming that they have the perfect apple pie crust recipe. What may be the best recipe for other bakers may not be the best recipe for your tastebuds.
Most Popular Crusts
The most popular apple pie crusts that people bake are the following: all-butter crusts, cheddar cheese crusts, a combination of lard and butter crusts, brown sugar crusts, cinnamon crusts, store-bought crusts, etc.
There is a lot to consider before deciding which apple pie crust to bake. For example, time. Bakers must take into account how long a pie must bake. If you have an engagement to attend, you probably do not want to follow the apple pie recipe that takes four hours start to finish.
Also, determine what type of crusts you want to bake. In a time crunch, you may want to do a top crust with knife slits for escaping steam. If you have the time and energy, you can create a lattice top or an intricate design on your crust.
When testing popular crust recipes, decide if you will bake it with the filling or without the filling.
Baking Crusts in Ramekins
Ramekins are specifically designed to make mini, individual food items. Bakers should use this to their advantage when testing recipes. The size of the ramekin is only one reason to use it for recipe testing.
Ramekins are manufactured in a way that can directly benefit apple pie crusts. These mini bakeware dishes are typically made of glazed ceramics or glazed porcelain. Ceramic and porcelain are durable materials; they can easily withstand the high heat of the oven.
These materials are also dishwasher-safe, microwave-safe, oven-safe, freezer-safe, and (often, but not always) broiler-safe. The ramekin material will aid you in understanding how each crust will behave in the oven.
The high sides of the ramekin will show you if the crust is easily burnt. The sides will also reveal if there is any major shrinkage as the crusts bake.
FILLING
Similar to apple pie crusts, there are many different types of apple pie fillings and recipes. How do you pick the right recipe, and how can a ramekin help?
Different Types of Fillings
Online, you will find a variety of apple pie fillings that vary only in the smallest detail. You will also find apple pie fillings that are completely different than anything you have ever seen.
The most popular apple pie fillings focus on the following ingredients:
Sugar Types (brown, white granulated, coconut, molasses, syrup)
Spices (allspice, nutmeg, cinnamon, cardamom, ginger, anise, cloves)
Type of Fillings (homemade, store-bought canned, store-bought frozen, homemade jarred)
Probably the important ingredient of an apple pie: the apple! There are approximately 7,500 varieties of apples found around the world today. That is a lot of apples to choose from. According to The Pioneer Woman, the best apples to use in an apple pie are the following: Granny Smith, Honey Crisp, Gala, Pink Lady, Golden Delicious, Northern Spy, Jonagold, Braeburn, McIntosh, Cortland, and Red Delicious.
Cooking Apple Pie Fillings in a Ramekin
You can begin your experimentation by mixing diverse apples with various spices and sugars or choosing a handful of apple pie filling recipes and following the recipe.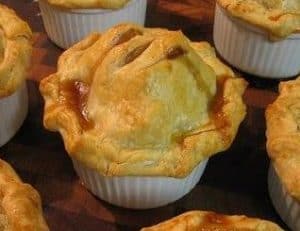 Ramekins are produced with a glazed coating that makes them easier to clean and remove food items. If baking apple pie without the crust, removing the filling from the ramekin is a breeze. You can also remove the whole pie itself easily, but do it gently.
The last thing you want is to taste last night's pot pie in your apple pie filling. Because ramekins are made of ceramic and porcelain materials, they will not absorb odors, flavors, or colors.
When baking on a smaller level, bakers can mix their ingredients in the ramekin; this reduces the number of dishes used for baking a mini apple pie.
Making Mini Apple Pies in Ramekins
In short, making mini apple pies in ramekins is an excellent decision if you are looking to make the perfect apple pie without wasting ingredients, time, or money.
Using a ramekin to make mini apple pies is the ideal way to test different recipes or maybe creating your own recipe!
Ramekins in themselves are a great resource in the kitchen. Ramekins are designed in a way that is perfect for cooking a variety of pies: pot pies, veggie pies, fruit pies, etc.
Being made of ceramic and porcelain makes ramekins extremely presentable. Ramekins are often a delicate bakeware dish with pleasant details that make it a perfect serving dish!
You do not have to be testing recipes to use a ramekin. Once you find or create your apple pie recipe, serve mini apple pies in ramekins at your next event.
Will you be baking mini apple pies in your ramekin? Let us know!