It is always the season for baking! Whether it's birthdays, family reunions, Thanksgiving, Christmas, or Sunday dinner, a pie is always a good idea.  Especially in your Emile Henry classic ceramic pie dish.
Something every kitchen needs is a solid, reliable pie dish. Pie dishes are versatile and resourceful. Where can you find a pie dish for all of your baking needs?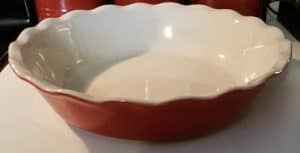 Emile Henry has a reputation for providing its customers with only the best pie dishes. Handmade in France since 1850, Emile Henry has been entrusted with manufacturing high-quality ceramic bakeware.
Each piece of bakeware, including this one, is produced using Burgundian clay. Burgundian clay is used because its retains heat more effectively than other ceramic materials; this is why professional chefs and bakers love Emile Henry.
Keep reading to learn why everyone loves the Emile Henry Classic Ceramic Pie Dish and why you should too!
Ceramic Pie Dish Details
Emile Henry uses the finest high-quality materials, crafty designs their pie dishes, glazes each piece of bakeware, and offers an array of beautiful colors.
HR Ceramic
The Emile Henry Classic Ceramic Pie Dish is created with Burgundian clay, originating from Burgundy, France. Burgundy is known for its mineral-rich limestone soils. Not only does Emile Henry use this clay for their bakeware, but many wineries take advantage of this soil to produce high-quality wines.
Why use Burgundian clay? Burgundian is resistant to many elements. This ceramic material is resistant to mechanical shocks.
A kitchen is a busy place. There is a lot of movement and rushing when it comes to professional kitchens. Professional chefs and bakers love the Emile Henry Classic Ceramic Pie Dish because it is resistant to bumps and shocks.
The Emile Henry Classic Ceramic Pie Dish is also resistant to temperature changes. This ceramic pie dish can handle the high heat of the oven and the cold temperature of the freezer; it can withstand up to 500 degrees Fahrenheit.
Design
Emile Henry creates bakeware with serving capabilities. With other bakeware, chefs have to remove the food items from the bakeware and serve it in another dish. The Emile Henry Classic Ceramic Pie Dish is both functional and presentable.
Each pie dish has a ruffle design around the top edges. This ruffle is inspired by french bakeware as an homage to their origin.
The Emile Henry Classic Ceramic Pie Dish is 9 x 9 x 2.2, the perfect pie size. This ceramic pie dish has a 1.5 quart, equaling to six cups, capacity.
Surface
The surface of the Emile Henry Classic Ceramic Pie Dish is glazed ceramic. Emile Henry chose to glaze each piece of ceramic bakeware to create an exceptionally smooth surface for easy baking and cleaning.
The ceramic glaze is free of lead and free of cadmium, making it extremely food safe. The ceramic glaze is also non-stick. Chefs and bakers love this non-stick surface because it is easy to remove food items for eating.
The non-stick surface also makes it easy to clean the pie dish.
Colors
The Emile Henry Classic Ceramic Pie Dish surface is not just practical, also has vivid colors. There are multiple colors to choose from when buying an EH ceramic pie dish.
Blue Flame
Burgundy
Charcoal
Flint
Flour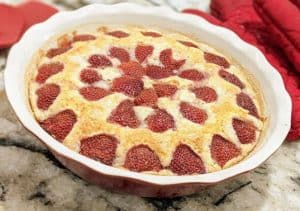 According to Emile Henry, "Heat, the dishwasher or sharp instruments will all have an aging effect on a product. Our glazes are particularly resistant to the dishwasher and the most aggressive of detergents."
Emile Henry reassures their customers that the colors of their Classic Ceramic Pie Dish will not fade. Chefs can put their pie dish in the dishwasher with harsh detergents without fearing faded colors.
Using and Caring For Your Pie Dish
As mentioned in the previous section, the Emile Henry classic pie dish is safe to use in the dishwasher with harsh and aggressive cleaning detergents. The non-stick surface makes cleaning this dish easy even if you don't have access to the dishwasher.
Before cleaning the ceramic pie dish, allow the bakeware to cool completely. It is much easier to clean ceramic bakeware when it is cool.
Owners of the this classic ceramic pie dish can safely use their pie dish in the freezer. With temperature resistance, this pie dish can reliably move from the freezer to the oven.
Likewise, the pie dish can be used in the microwave and oven using high temperatures. When using the most ceramic pie dishes, understand that they can retain heat.
The Burgundian clay maintains the heat of the microwave or oven. This slows down the baking and cooking process; however, this heat retention keeps food hot longer than other comparable bakeware materials.
If something happens to your Emile Henry ceramic pie plate, you can register your pie dish online on the Emile Henry website. When you register your pie dish, you will receive a 10-year guarantee. The guarantee covers "any production fault or quality problem".
Recipes For Your Pie Dish
The classic ceramic pie dish is used for much more than pies. The versatility and flexibility of this pie dish make it perfect for other meals, desserts, and other foods.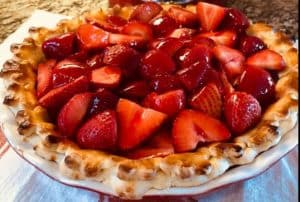 The Burgundian clay material can be utilized when you need to keep food hot for longer because the material retains heat so well. The Emile Henry design allows chefs to use the pie dish for baking and serving. The glaze surface is non-stick for the convenience of serving and cleaning.
There are five colors to choose from when purchasing your favorite pie dish. The colors of this pie dish will not fade because of the dishwasher or aggressive dish detergents. If you do notice a problem with your Emile Henry dish while dishwashing or baking, you can get a replacement!
Try one of the following recipes from Emile Henry with your new pie dish:
Frittata Quiche
Sage and Orange Pumpkin Rolls
Tart Raspberry Lime Pie
What will you bake in your Emile Henry Classic Ceramic Pie Dish? Let us know!