My 9×13 ceramic baking dish comes in handy when I have to cook during festive periods. We always have a large crowd at our house during Christmas, Thanksgiving, and Easter. This large baking dish makes the cooking process faster, and I always come out with a smooth finish.
However, lately, my favorite pan has been showing signs of aging, the reason I had to shop for a replacement. Unfortunately, there were lots of options available, so it was difficult to settle for one. At that moment, it occurred to me that there are probably many women in my shoes, the reason I came up with this guide.
Hence, if you're looking to replace an aging 9×13 ceramic baking dish, I will outline tips on choosing the best ones plus the top 3 buys in the market right now. I've also rounded this off with quick tips about caring for your 9×13 ceramic baking dish and my favorite recipes with this pan.
What To Consider When Buying A 9×13 Ceramic Baking Dish
If you have a lot of ceramic cookware, then you already know the basic things they offer. First, they're non-sticky and easy to clean. Secondly, you should also be familiar with their weight and the trouble that comes with lifting it. Lastly, you should be aware of their temperature range, which is 300 to 500 degrees F.
There are more factors to consider besides the ones mentioned earlier when shopping for a 9×13 ceramic baking dish, and I have outlined them below.
Capabilities
Some 9×13 ceramic baking dishes are both oven and freezer compatible. However, some are also microwave compatible. They are also often resistant to thermal shock. This makes them safe for different surfaces and temperatures.
It's difficult to tell if a dish has this ability by just considering its appearance. However, it's usually indicated on the package of the pan. The only downside is that such pans are expensive but have the widest temperature range.
Type of Finish
The type of non-stick coating on the dish determines its safety. For example, several ceramic baking dishes have an enamel finish, but I prefer those with a glazed mirror finish. The glazed design makes the dish easy to clean and is also microwave safe.
Accessories
The bigger they get, the lesser their accessories. For example, most small-sized baking dishes come with both a lid and a handle, but in the case of a 9×13, it's difficult to find one that features both. Even when you do, they're often bulky and expensive.
I prefer those with handles as they allow me to move my cake from the oven to the dining table without feeling any weight. However, if you need something that doubles up for storage and heat retention, you shouldn't be scared of shedding extra dollars for a lid-handle design.
The Best 9×13 Ceramic Baking Dish
Going by reviews from certified buyers and lovers of ceramic baking pans, here are the best 9×13 ceramic baking dishes to bake with at the moment.
Staub 9×13 Rectangular Bake dish
I just started using this pan six months ago, and it has become my go-to option for cooking for crowds. I make my casserole here, and I love the fact that it's resistant to stains, smell, or chips. In addition, several color variants can match different kitchen designs.
They're also convenient to store since they easily nestle over each other.
Emile Henry Made in France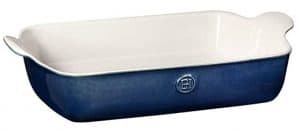 If I hadn't gotten the Staub 9×13 ceramic, I would have gotten the Emile Henry. I love its depth, and many reviews said it has superb heat retention, which keeps your food warm for over 30 minutes.
It comes with handles and can withstand a temperature of 520 degrees F in the oven. Just like the Staub, it also has a glazing design which makes it scratch-resistant.
HIC Oblong Rectangular
The HIC oblong rectangular seems to be amassing rave reviews at the moment for several reasons. First, it's made from porcelain which makes it durable and rigid enough to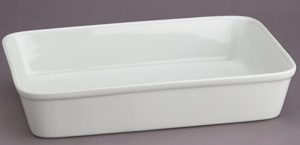 withstand heat. It's also quite versatile to utilize. You can use it to roast and also serve your vegetables.
It holds a lot of weight and is 2.5 inches deep. However, a significant drawback is that it doesn't come with any accessories. We're talking zero handles or even a lid. However, it's safe for use in the oven up to 500 degrees F.
Recipes for 9×13 Baking Dishes
Aside from traditional casseroles, I have baked additional 12 recipes in this pan. Usually, almost all casserole dishes can be used to bake cakes, bread pudding, lasagna, and even pizza.  Since mine is large, I even made raspberry squares and blondies in it.
Other dishes you can make here include eggplant rollatini, fudgy brownies, and peach cobblers. Most 9×13 baking dishes can cook a whole chicken due to their large surface area.
Care Tips for A 9×13 Pan
Sometimes, I find it hard to clean my 9×13 ceramic baking dish anytime burnt treats get stuck. Well, I know you might be surprised that I just said that. But, honestly, even with a non-stick surface, foods might get burnt in the pan if you leave it beyond their cooking time.
If you find yourself in such a situation, I don't advise using an iron sponge as this might scratch the vessel of the pan. Instead, I like to clean it off by pouring warm water over it and allowing it to soak for about 3 hours, depending on the extent of the burn. After this, the burnt part should easily come off.  Then if more cleaning is needed consider Bar Keeper's Friend with a gentle scrub.
However, if this doesn't work for you, I recommend adding three tablespoons of baking soda to the dish and allowing it to cook for 10 to 20 minutes. This should remove any mess stuck to the surface.
Lastly, you should always pre-season your 9×13 baking dish with oil before pouring your batter. If you don't, the dish will overheat in the oven, resulting in a serious burn. This step can't be skipped if you on baking gluten-free treats.
Final Thoughts
The 9×13 ceramic baking dish is better suited for cooking in large quantities. This is because the more depth your pan has, the higher the amount of food it can hold. You can also use several of these baking dishes for storage in a refrigerator, provided they're thermal shock resistant.
Overall, I love pans that come with accessories. They're more comfortable to manage and best for food transfer. Lastly, the higher their temperature range, the stronger their heat retention ability.