Finding the ideal cooking sets for cooking those delicious family meals can be daunting. There are thousands of cookware companies on the market today, all of which have their benefits. However, the Pioneer Woman Cooking Sets are some of the bests in the industry! They were crafted by Ree Drummond (yup…the food network cook and ranch worker!) and are made for those that love to cook! Let's talk about what you get, what makes each item so unique, and where you can buy these collections!
A Little About Pioneer Woman
If you've ever seen the Food Network, you've probably heard of the pioneer woman, formerly known as Ree Drummond! This incredible woman has her own cooking show on the network, but she wasn't always so famous.
Prior to landing her own TV series, she was a food blogger – known as the Pioneer Woman Blog. Her blogging was so successful that it landed her on Forbes Top 25 Web Celebrities in 2010. Even further back though, she was a simple working ranch wife from Oklahoma. This is what inspired her blog entirely. She not only wanted to share food recipes, but she also wanted to share what life on the ranch was like.
That she did and thus began the launch of her Pioneer Woman collection include her exclusive line of Pioneer Woman Cooking Sets!
Are Pioneer Woman Cooking Sets Good?
The Pioneer Woman Cooking Sets are some of the bests on the market! All of her sets are dishwasher safe and easy to clean by hand if needed! They are also all nonstick and fantastic for cooking a wide variety of foods!
Each of her cooking sets comes with various pieces, some of which are pots, pans, utensils, even bowls! Each piece is made to for long-term use, wear, and tear. Although honestly, the wear and tear is rare even with prolonged use! The Pioneer Woman Cooking Sets are all meant to feed the family, even the pickiest of eaters. They are the ideal set for wives, mothers, fathers, even grandparents! Since they are nonstick items, they are easy to clean even without use of the dishwasher. All it takes it a little soap and water and you're set!
Additionally, they're absolutely adorable to look at. They fit the ranch-life aesthetic flawlessly!
What Are the Kinds of Pioneer Woman Cooking Sets?
Currently, there are three kinds of Pioneer Woman Cooking Sets in the collection.
25 Piece Ceramic Nonstick Aluminum Set
Frontier Speckle 10-Piece Nonstick Set
Frontier Speckle 24-Piece Combo Set
Each set has its advantages and recommended usages. So, let's break them down!
 The Frontier Speckle 10-Piece Nonstick Pioneer Woman Cooking Set
This is the smallest of the three collections in The Pioneer Woman collection. This set includes: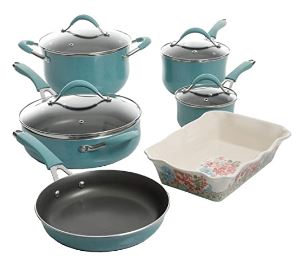 1.5-qt saucepan with lid
2.5-qt saucepan with lid
5.5-qt Dutch oven with lid
4.6-qt sauté pan with lid
9.5″ frying pan
12″ x 8″ ceramic baker
Each item in this collection is oven safe up to 350 degrees Fahrenheit. Every item is made from nonstick Teflon to ensure easy cooking and clean up! The lids are made of glass so that you can keep an eye on your food during the process.
The items in this collection come in red or turquoise and the ceramic baker feature Ree's signature floral design! This set is beautiful, easy to use, and easy to clean. It is recommended to handwash, but you can use them in the dishwasher on low settings.
 The 25 Piece Ceramic Nonstick Aluminum Set
This set includes: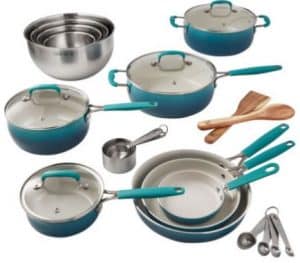 A 1-quart saucepan with lid
A 3-quart saucepan with lid
A 4.5-quart sauté pan with lid
A 5-quart Dutch oven with lid
An 8″ skillet
A 10″ skillet
One egg pan
One acacia wood turner
One acacia wood ladle
Four stainless steel mixing bowls in nesting sizes
One stainless steel measuring cups set
One stainless steel measuring spoons
All 25 pieces of this nonstick ceramic and aluminum kitchen appliances set are flawlessly made. The appliances come in three colors: green, red, and teal. The color of the appliances in no way effects the capabilities of them! Each item in this set is nonstick, making them easy to clean up after big and small dinners.
The skillets and pans all contain an aluminum coating which is contusive to faster and more energy-efficient cooking. The exterior coating that's on each of these items provides an added layer of protection. This can help prevent chips, scratches, or any other kind of damage to the appliance. The coating also helps prevent color fade! The silicone handles on the appliances in this collection help prevent heat and cold buildup as well. The pans are also oven safe up to 350 degrees Fahrenheit.
It's a fantastic collection for anyone who loves to cook, but maybe doesn't need everything.
The Frontier Speckle 24-Piece Combo Set
The final of the 3 Pioneer Woman Cooking Sets is this one. This set has 24 pieces (only one less than the previous) but is equally as phenomenal! This set includes the following items: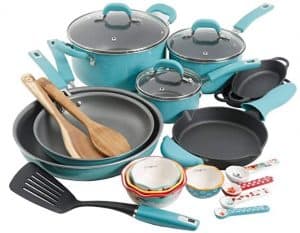 1-qt sauce pan with lid
2.5-qt sauce pan with lid
5.5-qt Dutch oven with lid
9.5″ fry pan
12″ skillet
4 ceramic measuring bowls
4 ceramic measuring spoons
8″ cast iron skillet
2 mini au gratins
2 silicone sleeves
Acacia wood turner
Acacia wood spoon
Nylon spatula
This set comes in turquoise, red, or gray and is slightly different than the prior collection mentioned. It is the ideal set for those who like to cook and bake. It's also great for those who need a little bit of everything in comparison to a whole lot of pans! The set was created to fit the needs of the average household. This is why you see some small and large sized pans and skillets. Each item is nonstick and perfectly safe to be washed in the dishwasher. However, since the items are so easy to clean by hand, you really wont' need to! It's a great set for anyone who loves being in the kitchen!
The Teflon, black coating is what makes the items nonstick. Additionally, the exterior coatings helps minimize the likelihood of any scratches or dings from wear and tear. You'll love this set so much that you're guaranteed to use it every single day!
Where are Pioneer Woman Cooking Sets Made?
Pending the item being discussed, the majority of the Pioneer Woman Cooking Set items are made in China. However, some of them are made in the USA if they are in collaboration with Hamilton Beach. All of the designs are made in the US.
Regardless of where they are made, buyers are getting an incredible set of cookware that will last them for years!
Where can I Buy Pioneer Woman Cooking Sets?
There are a wide variety of locations that you could buy the Pioneer Woman Cooking Sets. However, you're most likely to see them in big-chain stores like Walmart. Ree has a whole collection in Walmart's all over the country. She sells a wide variety of items outside of her cookware kits, we'll mention those further on!
You can also purchase her products through Amazon. This is especially helpful for overseas buyers! Amazon is a fantastic option for anyone who doesn't have access to an in-person location that sells these collections.
What's Included in the Pioneer Woman Cooking Sets?
There are so many items included in the Pioneer Woman Cooking Sets. Buyers get everything from pots to pans to utensils to bakeware to lids and more! Each item is made to be nonstick so that you can cook and clean with ease. The silicone handles make maneuvering the pots and pans simple, even in hot ovens. Additionally, each item comes in various sizes.
The collection you buy will determine what you get since each collection has its own products. Each collection though does come with several pots, pans, and lids. The larger collections also com with utensils like spoons and spatulas as well as bakeware such as bake dishes, bowls, and measuring spoons!
What Else Does the Pioneer Woman Sell?
The Pioneer Woman sells a wide variety of kitchen appliances and accessories. You can find standard kitchenware such as the items in her sets. However, you'll also find large appliances like air fryers and blenders. Additionally, she sells kitchen accessories like table runners and table clothes. Ree also has her own cookbook that can often be found in stores for purchase!
These are her most popular sellers:
The Pioneer Woman Cooking Sets
The Pioneer Woman Cutlery Collections
Crockpots
Bakeware
Dish Sets
She also sells her own line of bedding and even seasonal favorites! Her items are all made with love and care from her family to your family.
Final Thoughts
Ree is a hardworking ranch woman from Oklahoma who turned her hobby into a career. Her Pioneer Woman Cooking Sets make the ideal addition to any kitchen! Since each item is nonstick, cooking and cleaning is an absolute breeze. The pots and pans are all oven safe between 350-400 degrees Fahrenheit as well, which increases what you could cook! Every set is unique in its own way and comes in a few different colors to match to your specific home! Let's not forget to mention how adorable her signature floral designs are as well. Be sure to check thepioneerwoman.com to see her latest collections!