Using this Flea Market bakeware set from The Pioneer Woman for the second straight year, I decided I wasn't going to keep using it myself but tell home baking enthusiasts like myself how great a result this bakeware set can bring. The Pioneer Woman Flea Market 2-piece decorated rectangular ruffle top ceramic bakeware set:  its a mouthful!  This set comes in two pieces. I used the lovely small floral one to bake dressings last thanksgiving, and the kids loved it!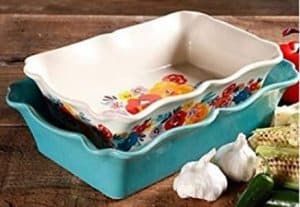 Hence, I feel I'm in the right position to tell you everything about this set of kitchenware. And this is what I'll be doing in this article.  Whether you are a beginner or professional bread baker, take a look; you may have found a new addition to your bakeware collection!
Click here to see if it's in stock.
What Is The Bakeware Set Like?
The Pioneer Woman Flea Market 2-Piece Decorated Rectangular Ruffle Top Ceramic Bakeware Set is a set of kitchen or baking utensils specially designed for making desserts and cakes. They were designed by Ree Drummond, The Pioneer Woman herself, who proudly endorses this set as worthy of carrying her prestigious name.
I got this back in 2019 as a gift, and it came quick enough to make Christmas. In the package, I got two pieces of bakeware. The set has a ruffled top, which I really like as it adds elegance and function to my baking activities.
Key Features Of The Bakeware Set
Here are some features that make this bakeware set from Pioneer Woman a premium, well-made bakeware set.
Ceramic Construction
This is made of ceramic; ask any baker around, and they will tell you it's one of the most practical for baking. With ceramics, you get even baking and great nonstick results. Ceramic is characterized by high heat resistance.
It has an excellent non-stick effect and also conducts heat well, which I like. In addition, it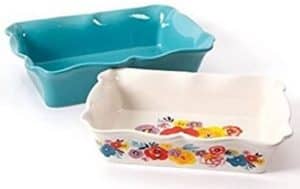 is a pleasing aesthetic externally and looks great in my kitchen.
Unfortunately, the material has some disadvantages. Above all, it is fragile, and it's one of the reasons I've barred my kids from my kitchen counter. Unfortunately, this bakeware set is not shockproof.
They will get broken or cracked if they fall or are exposed to too high a temperature. However, the product is scratch-resistant as both of the pieces are ceramic.
Some components like PFOE, direct, petroleum, iron, and cadmium, among others, are found in products made from ceramic. Still, this product has no toxic materials and is safe for cooking and high heat exposure during use. They do not contain any of the mentioned items. Pioneer Woman guarantees that the product is safe for cooking up to 400 degrees Fahrenheit.
Oven Safe And Heat-Resistant Up To 400°
If you want a bakeware set that you can use indoors in your oven, I have some good news for you. And this is that these items are oven-safe. I always use these rectangular ruffle top ceramic items for baking cakes and desserts in my new oven, and the result always comes out fine.
Pioneer Woman says they are resistant to high temperatures – up to 400 degrees. But I don't bake up to that temperature, so there's no way I can confirm that for you.
Ceramic is a material that disperses heat faster. This usually means that you get faster baking time. The product also has higher thermal resistivity. With this quality, it is more difficult to expose the bakeware to extreme thermal damage.
Two Pieces (Floral And Turquoise Bakers)
The dimensions of your kitchen, the accessible storage space, your cooking needs/frequency, the size of your oven, etc., are all things to consider before making a selection. In that regard, this is a two-piece set.
You'll have a turquoise baker and a floral baker, both of course, different in size. The larger dish measures 15.9 x 6.1 x 11.8 inches; it is 6.1 deep and around 15.9 inches long. Note that the product doesn't include other utensils such as lids or handles.
Dishwasher-Safe
I love buying dishwasher-safe kitchenware simply because I have a dishwasher. This saves me a lot of time and stress. In addition, I like that these ceramic items can be washed safely in the dishwasher. The ease of cleaning speaks in favor of these ceramic baking items. Whether you prefer to wash by hand or in the dishwasher, this is a great option.
You can also decide to hand wash them, preferably with lukewarm water. The practical thing about ceramic baking molds is that they are robust. It doesn't matter if they are dishwasher or hand washed – you don't have to worry too much about scratches when cleaning them.
Stain-Resistant Bakeware
Choosing a collection of ceramic-made kitchen utensils guarantees that you will never receive any stains. This is exactly what the Pioneer Woman Flea Market Bakeware offers you.
The property of their material makes stains and food easier to wash out of the bakeware. Also, because it's high-quality ceramic non-stick cookware, this means you can use less oil in baking without the food sticking into the bowls.
With two years of use, I can't find any scratch mark on it, and it's one of the many benefits that draws me to ceramic wares.
Is The Pioneer Woman Flea Market 2-Piece Decorated Rectangular Ruffle Top Ceramic Bakeware Set For Me?
Yes, this bakeware set can be fragile if you're the carefree type. I also didn't like that it doesn't come with any sort of handle, which will help when taking them out of the oven, up to 400 degrees Fahrenheit hot. I also wished it came with some kind of warranty. But at this price, the pros of this bakeware set far outweigh the cons, which are also not a deal-breaker.
Like many others, I've been using it for the second year, and I wholly recommend it. The ceramic bakeware set guarantees you an easy-to-clean, non-stick, conductive product that bakes evenly and that you really would love to see every day on your kitchen counter or dining. Finally, the material is safe for baking and does not release chemicals into your food. Lest I forget, it comes at a fair price too!