Well, I've never been a fan of kitchenware sets. The 9-piece thing looks like a scam to me. I know that you end up with more numbers, but they often lack quality. If I do buy a set, it's usually a nice set of single serve individual ceramic baking dishes.  They are a cute addition to any kitchen and a great way to impress your guests.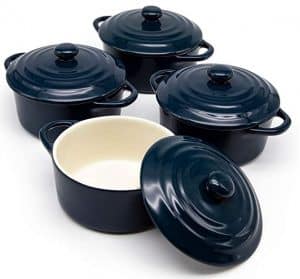 When you serve your pot pie or lasagna in these adorable little dishes you will win the day!
However, to stand a chance of getting one that meets your needs, you have to be clear about the features you're looking for. This is why this guide is going to be of massive help to you.
Features of a Good Individual Baking Dish
If you stroll around several online retail stores, you will realize that we have more individual ceramic casserole dishes than other varieties. Hence, the majority of individual ceramic baking dishes are either circular or rectangular. Also, the non-stick property of such bake dishes ensures foods pop out cleanly without sticking to the sides.
However, the criteria mentioned above are a minor part of what good individual bakeware should offer. There are other vital features to look out for, and I've listed them for you below.
Presence of Lid
The presence of a lid gives extra protection to most ceramic baking dishes. First, it allows you to store items and, at the same time, retain a lot of heat even after the food has been taken out of the oven. This means foods hardly cool off.
While several baking dishes come with lids nowadays, not all of them support open flame cooking. This might not be an issue if you plan to solely use it in an oven, microwave, or freezer. However, this might be a concern if you plan to cook over a wood fire.
Premium Material
When it comes to ceramic bakeware, the dish's quality is determined by the material it's made from, as well as the design of the coating surface. The best ceramic baking dishes are made from porcelain or stoneware. Unfortunately, cast iron baking dishes do not support even heat distribution; hence some parts might get overcooked.
It's also important to consider the quality of the coated surface. Enamel coating offers an impressive finish, but the layer often peels off fast. This makes them a bad option for dishes like pizza and bread.
Temperature Limit
Most individual ceramic bakeware are built to withstand high temperatures. On average, individual dishes can withstand a temperature range of 500 degrees F when placed over oven heat. However, the temperature range of the baking dish depends on the type of material it's made from.
Stoneware ceramic baking dishes are the best when it comes to heat absorption. However, at a temperature range beyond its limit, the material starts to crack.
Handles for Grip
Handles make it easier to move dishes from the oven to the dining table. The handle is important if you make lasagna, casserole, pizza, or bread. The handle conducts less heat; hence it keeps your hand off the heated body of the bakeware.
What's the best shape for an individual baking dish?
Most ceramic baking dishes come in two shapes – rectangle or oval. Many people might be curious to know if the shape of the pot affects the output of the food. Well, in terms of appearance, it does. For example, a rectangular dish can't produce a round pizza, and a round baking dish can't make rectangular banana bread.
When it comes to cooking, rectangular pans are favored for casseroles. This is because it offers more surface area and allows foods to pop out easier. But, you might be wondering how that's possible. Well, with a rectangular dish, you can stick a spatula to the side if it gets sticky.
However, round pans also offer some benefits. It offers better even heat distribution than rectangular bakeware and prevents the batter from running off, which will mess with the shape of the food.
Even at that, you should stick to the option that will give your recipe its ideal shape. In terms of cooking results, the difference between both isn't well pronounced.
What's the best temperature range?
The temperature range of a baking dish goes a long way to determine its heat tolerance. Your choice of baking dish is determined by the recipe that will be cooked inside. While some foods require 200 degrees F to cook, others might need more.
If you plan to cook a dish like a casserole, you must go for bakeware with a temperature range of at least 350 degrees F. A lower temperature will affect the pan's versatility. This means, even though you will still be able to cook your casserole in it, you will be unable to cook other dishes which require more heat since it's impossible to go beyond the required temperature range.
Dishwasher safe or not?
We all want a ceramic baking dish that's dishwasher safe. This is because it takes a lot of manual effort to wash. However, you should know that washing in a dishwasher will reduce the pan's longevity since ceramic cookware is prone to scratches.  We always recommend hand washing with a little Bar Keepers Friend if needed.
Conclusion
The durability of individual ceramic baking dishes is pronounced. However, you can't compare their quality to those sold in a set. This is because the individual designs were made for a specific recipe. Hence, the results are more impressive.