Most families have at least one member that loves sweets! What is something every sweet tooth should own in their kitchen? A baking sheet, also known as a cookie sheet! Cookie sheets are great for baking cookies, sweet treats, and so much more!  Let's take a look at the Green Life baking sheet.
With hundreds of options out there, we hope to help you make a decision! GreenLife has a baking sheet that is beautiful, sturdy, and with positive reviews! Keep reading to learn how the GreenLife Baking Sheet is different from other cookie sheets, and what the reviews say about it!
All About the Green Life Baking Sheet
Description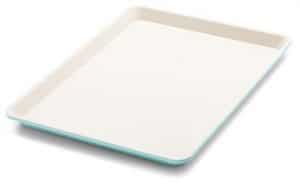 The Green Life Baking Sheet is manufactured with a heavy-duty steel internal structure and a ceramic glaze. With a ceramic glaze, there is no need for cooking sprays, grease, oils, or parchment paper! The heavy-duty steel internal structure allows quick and uniformed heat distribution.
Customers love the ease of cooking with this baking sheet. Not only is it low-maintenance, but it is also toxin-free! GreenLife's baking sheet is an 18×13, the perfect size for cookies, pan meals, and more.
Each baking sheet has reinforced rims. The reinforced and raised edge prevents spillage and splashing; they also provide stability to users.
Details
The GreenLife Baking Sheet is a handwash-only pan. Because the ceramic glaze wraps the pan, users must wash it gently with warm water and dish detergent.
Another reason that GreenLife is a popular ceramic cookware and bakeware brand is because of its design. Each piece of bakeware is designed to work well and look good!
Many of their designs come in different colors. You can purchase their baking pans in the following colors:
Lavender
Navy
Pink
Turquoise
What Makes it Different From Other Baking Sheets?
Made to Make Cooking Healthier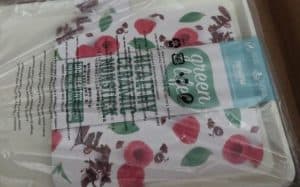 Many chefs are painfully aware of calories, and others are on diets. With this baking sheet, there is no need for excessive oils. Fewer oils mean fewer calories; this is great for those looking to cut back.
The GreenLife Baking Sheet is toxin-free and chemical-free. Derived from natural sand, each pan is guaranteed to be healthy. The following toxins are not present in their cookware and bakeware:
Made to Make the World Healthier
Not only is the pan making its user healthier, but it is better for the world! GreenLife creates 60% fewer CO2 emissions than other nonstick cookware companies. This ceramic cookware company also strives to use recycled aluminum in their cookware and bakeware. Packaging contains recycled plastics and recyclable cardboard.
Made to Make Cooking Easier
The large size and reinforced rims make the GreenLife Baking Sheet versatile. Users can bake more than just cookies! GreenLife suggests using this baking pan for baked sweets, nachos, chicken wings, and one-pan dinners!
What Does GreenLife Have to Offer?
Baking Sheet Variations and Bundles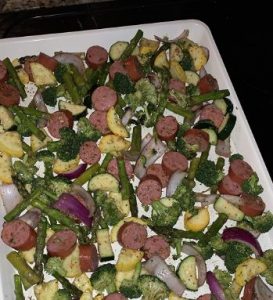 There are three options when purchasing a GreenLife Baking Sheet. You can buy a single cookie sheet. The single cookie sheet measures 18×13, a great size for large batches of cookies and one-sheet meals.
Customers can also purchase the Small 2-Piece Cookie Sheet Set. The small two-piece set measures 7×9. A 7×9 can be used for small batches of baked sweets and sides for dinner.
Lastly, you can purchase the Large 2-Piece Cookie Sheet Set. When purchasing this set, you will receive two pans each 9×13. Most chefs use their 9×13 pans for feeding families at dinner time or for doubling their recipes.
GreenLife's Helpful Tips
GreenLife has handy tips for those that purchase their baking sheets:
Use wood or nylon utensils
Use oil or butter, but NO spray oils
Let it cool before washing
Use a soft sponge and warm water for cleaning
What Do Customers Think of the Green Life Baking Sheets?
Top Positive Reviews
Most positive reviews focus on the overall design, cooking ability, versatility, and nonstick surface. Read the top positive reviews below:
"These are a perfect size to make small batches of cookies, etc. Very well made. Sturdy and very easy to clean. The cookies I made did not stick and cooked perfectly. I love the color! These would make a great gift!"
"To start off the color is so vibrant and pretty, these are the cutest baking items I have so far and I love them!! They are nonstick and absolutely amazing, I've only used them for baked goods so far and it works great. They distribute heat evenly and once out of the oven I was surprised at how quickly they cool down too! So no more worrying about how long a hot sheet pan will sit on the counter. You can't use extra virgin olive oil on these though, so if you tend to roast a lot with that, remember to either use butter or a different oil."
"First it looks fantastic. It's matte color is vibrant, and hasn't faded or lost its luster. It's the cookie sheet we are proud to use when company is over. It works as it should, the surface is smooth and baked items come up easily. It is simple to wash, as it releases grease and crumbs when washing with almost no effort. It hasn't held stains, which has been most impressive. And it isn't just for show, this is outlet go to cookie sheet when it only is in the house."
Top Negative Reviews
Most of the negative reviews discuss the fragility of the pan's surface. While GreenLife is safe to use after scratching, no one wants a chipped pan. Read these customers concerns about the GreenLife Baking Sheet:
"Brand new out of the box, unused and the ceramic coating is already chipping. Customer service email isn't even valid, only kicks back in error. Very bummed."
"I bought 2 of these cookie sheets and the very first time I pull one out to use it, it gets scratched from the Pyrex dish that was on top of it. Not impressed at all. I've used this pan two times; once for cookies and once to heat a frozen pizza. It now has multiple scratches on the front and back! Do not waste your money on these pans. I wish I could get a full refund."
"These are heavy and look great out of the packaging which is cardboard(yay for no plastic!). Sadly the coating that is supposed to be stoneware or ceramic is very very thin. I bought 3 trays and hand washed them after each use. All three have scratches simply from being in the sink with the other two trays. The coating is chipping off. I think these are marketed as a high quality non toxic option but I don't have confidence in that. Also- they list on the package not to use with olive oil? Not a big deal for us but I know a lot of people do cook with that…"
In Conclusion
The GreenLife Baking Sheet is an excellent addition to any house. It is vital to take care of your ceramic bakeware. Ceramic bakeware requires extra care and maintenance. If you are willing to put in the work, you will be able to enjoy the beautiful colors and construction of this baking pan!
Do you own a Green Life Baking Sheet? Can you tell a difference between GreenLife and other cookie sheets? Let us know!