If you are like me, when you find something you love, you do your best to take care of it to ensure that it lasts forever. Kitchen appliances and cookware should follow this rule as well. Specifically, cookware is one of those things that require attention and detail.  Let's talk today about GreenPan Jewel nonstick skillets.
If you do not properly take care of your cookware, its lifespan can be shortened drastically. This is why we are here to offer the best tips and tricks for making your GreenPan skillets last forever!
These GreenPan Jewel skillets are a great buy, and at an inexpensive price too! Keep reading to learn why they are great pans, how to use them properly, and how to prevent any long-lasting effects!
What Makes the GreenPan Jewel Nonstick Skillets Worth It?
Construction and Materials
The GreenPan Jewel Nonstick Skillets are a set of diamond-infused ceramic skillets. Hard anodized is the internal structure of the GreenPan skillets. The hard-anodized aluminum is used in place of traditional aluminum because it is even more durable. Conventional aluminum adds sturdiness to any pan, but hard-anodized aluminum maximizes the strength of the pan. With hard-anodized aluminum, chefs do not have to worry about majorly damaging their GreenPan Jewel Nonstick Skillets.
Above the hard-anodized aluminum layer is the protective layer. The protective layer prevents scratches and chips. With this extra protective layer, GreenPan assures its customers that their Jewel Skillets are ultimately scratch-resistant.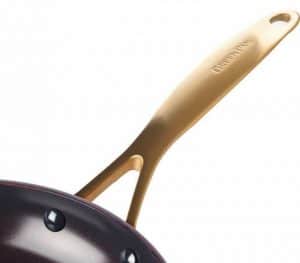 After the hard-anodized aluminum and the protective layer, you can find the diamond-infused, nonstick ceramic coating. Similar to most ceramic coatings, the GreenPan Jewel Nonstick Skillets are healthier than other traditional skillets. The ceramic portion provides a healthy cooking experience because GreenPan cookware items are toxin-free. The following chemicals are not found in any GreenPan products, including the GreenPan Jewel Nonstick Skillets:
Other frying pans and skillets contain dangerous chemicals that can harm you and your pets. When heated to a certain degree, these chemicals can harm your health and can cause serious illnesses.
Not only does the ceramic coating provide a sense of healthiness, but it is also extremely nonstick. A nonstick cooking surface is necessary when you are cooking items such as eggs, pancakes, veggies, meats, and so many others. The diamonds that are infused into the ceramic create the ultimate nonstick surface. Diamonds can conduct heat quickly and provide an extra layer of durability.
Accessories, Colors, and Sizes
The Jewel skillets come in three distinct colors and three various sizes. The colors can all be compared to vibrant jewels and gems. Each color is a different size. The different sizes create versatility. If you are cooking a meal for one, the smallest size may benefit you more than the largest. Customers can also purchase all three colors and sizes in a set. You can purchase a GreenPan Jewel Nonstick Skillet in the following colors and sizes: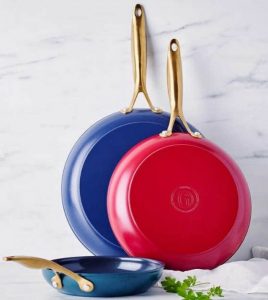 8-inch: Emerald
2-inch: Ruby
8-inch: Sapphire
In addition to the vibrant colors, each one of the GreenPan Jewel skillets comes with an equally exquisite handle. The handles are brass-coated stainless steel. Stainless steel handles are ideal for high heat, durability, and protection. With the brass-coated stainless steel handle, customers can use their pan whilst its appearance remains appealing.
GreenPan Jewel Nonstick Skillets – Use Instructions
Oven Capabilities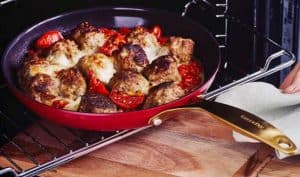 The GreenPan Jewel Nonstick Skillets can be used in a variety of ways. Due to their durable infrastructure and brass-coated stainless steel handles, they can be used in the oven. The GreenPan Jewel Skillets are oven and broiler safe up to 600 degrees Fahrenheit. Other ceramic skillets and frypans are only safe up to 350 degrees.
This opens up the door for lots of opportunities. Customers can use their GreenPan Jewel Nonstick Skillet for baking and broiling. Because you can use the oven, you can cook twice as many meals in these GreenPan Skillets.
Stovetop Capabilities
Using your GreenPan Jewel Nonstick Skillets is a breeze on the stovetop. These skillets are compatible with the following stovetops:
Ceramic
Electric
Halogen
Gas
Rangetops
The only stovetop that it is not compatible with is the induction stovetop. When using your stove, it is pertinent to follow the manufacturing suggestions. If customers do not obey those suggestions, they could inadvertently half their cookware's lifetime.
The GreenPan Jewel Nonstick Skillets should be used on a low to medium heat setting when on the stovetop. High stovetop heat can destroy the nonstick coating on the skillet. Another way to keep your pan nonstick is to use a small amount of oil or butter when cooking. Oil and butter have a high smoke point which protects the pans.
While keeping that in mind, oils and fats with a low smoke point will harm the pan. Low smoke points can burn the pan and cause staining and stickiness. An example of a low smoke point oil is aerosol sprays. Aerosol sprays typically can not withstand the high heat of a stovetop.
To make your GreenPan Jewel Nonstick Skillets last longer, use silicone, wooden, or heat-resistant nylon utensils. Metal utensils can wear a pan down faster than softer utensils. By using non-metal utensils, you can protect your pan from scratches, chips, and wear.
Prevention Care
Washing and Cleaning
There are certain precautions that a cookware owner can take to make their cookware last longer. Many may take advantage of the dishwasher-safe feature of the GreenPan Jewel Nonstick Skillets; however, that may harm your cookware in the long run. It has been proven that handwashing is better for your pots and pan than using a dishwasher.
When handwashing, first allow your Jewel Skillet to completely cool. By allowing the pan to completely cool, you are protecting the pan from any thermal shocks. Thermal shock is when the temperature changes drastically; this can cause a glass lid to break or a pan to lose its nonstick surface.
After the pan has completely cooled, use warm water and a gentle detergent to wash the GreenPan Jewel Nonstick Skillets. Abrasive scrubbing agents may harm your pan and shorten its lifetime. Instead of using steel wool or heavy-duty scrubbers, use a soft sponge or a dishcloth. The cloth and sponge will be gentle on the surface of your skillets.
Storing and Protecting
Once your GreenPan Jewel Nonstick Skillets are nice and clean, it is time to put them away. Did you know that nesting your skillets and pans together is harming their effectiveness? By casually storing your pans together in a stack, pans are getting scratched and worn.
The ideal way to store GreenPan Jewel Nonstick Skillets is by using a pan protector. Pan protectors can come in many shapes and sizes. Shoppers should be able to find a pan protector in their local houseware store. If shopping for a pan protector does not sound enjoyable or frugal, rest easy. Almost anything soft and wide can be a pan protector. The idea of a pan protector is to protect the inside of a pan from getting scratched by the bottom of another pan. By using dishrags, napkins, or paper plates, you can make your GreenPan Jewel Nonstick Skillets last longer!
To Summarize
Ceramic pans can be hard to take care of; however, there are ways to ensure you get the most out of your GreenPan Jewel Nonstick Skillets. Thankfully, the GreenPan Skillets are incredibly durable with a hard-anodized aluminum core, a diamond-infused ceramic surface, and a brass-coated stainless steel handle.
By using your GreenPan Jewel nonstick skillets on low to medium heat and with a small amount of oil or butter, you are guaranteeing that your skillet remains nonstick. If you hand wash your skillet with a soft scrubber and a gentle detergent, then you are protecting the surface of your skillets. And do not underestimate the power of a pan protector!
Will you change the way that you care for your ceramic cookware? Let us know if we helped!